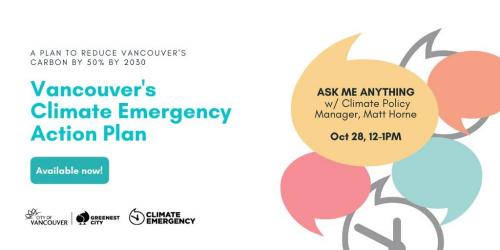 https://vancouver.ca/green-vancouver/vancouvers-climate-emergency.aspx
Through the Greenest City Action Plan, we cut our carbon pollution by 9% (between 2007 and 2019), while increasing the number of green jobs by 35%. We now need to accelerate our actions and reduce carbon emissions five times faster than before. The Climate Emergency Action Plan builds upon this solid foundation.
What's happening
Thanks for helping shape our plan
Thank you to the thousands of people who provided input to the Climate Emergency Action Plan by taking our survey, hosting a dialogue, and attending an event. Thank you to the Equity Working Group for ensuring that equity has a central place in this plan.
Your input helped us to shape the 19 climate actions we're presenting to Council on November 3, 2020. View the report PDF file (17 MB) or contact Council with your views about this plan.  
---
Update on Accelerated Actions
As of July 2020, a number of our Accelerated Actions are complete, with more underway. Some have been delayed.
See the full dashboard PDF file (63 KB)
---
Sign up to our newsletter
Learn more about our next climate and environmentally sustainable action plan.
You'll receive information about engagement opportunities, local events, volunteer opportunities, new incentive programs, surveys, stewardship programs, and more.
Rising global temperatures
Global temperature increases mean changes to our climate, communities, health, and environment, including:
An increase in heat-related deaths
Poorer air quality as a result of increased forest fires
Drinking water will become scarcer
Sea levels will rise and increase chances of flooding, including risking our seawall
Our snowpack will be reduced by 50% in the winter
In 2018, the United Nations Intergovernmental Panel on Climate Change (IPCC) External website, opens in new tab report warned that we have to cut global carbon pollution in half by 2030 to limit global warming to as close to 1.5°C as possible.
Our planet has warmed by 1°C due to human activity, and based on current trends, we're on track for 3-4 degrees of warming by the end of the century, which would be catastrophic for our economies, communities, and environment. Canada is warming twice as quickly as the global rate.
In 2019, The Intergovernmental Panel on Biodiversity and Ecosystem Services Global Assessment Report External website, opens in new tab warned an unprecedented 1,000,000 species are threatened with extinction.
The IPCC identified failure of climate mitigation as a significant threat to global stability that will potentially displace millions of people. Industrialized countries, such as Canada, that have benefited most from burning fossil fuels will be the destination for refugees.
Our energy matters
Carbon pollution causes climate change and is formed by burning fossil fuels, which in Vancouver means burning gasoline and diesel in our vehicles, and burning natural gas in our buildings and industry.
To reduce carbon pollution, we need to increasingly move around and heat our buildings and hot water using renewable energy. Examples include walking, cycling, taking transit, using electric vehicles, switching to electric heat pumps, and using renewable natural gas.
Along with switching to renewable energy, we can use energy more efficiently, consume less, and eat less red meat.
With climate change looming as the defining issue of our time, we must do more to respond to the urgent, global climate crisis.
Taking climate action locally
Over 95% of Vancouver generated carbon pollution comes from burning: 
Gas and diesel in our vehicles 
'Natural gas' to heat our buildings and hot water
Vancouver residents, business, and organizations also contribute to carbon pollution through: 
The things we buy - burning fossil fuels (in Vancouver and globally) to produce and transport what we buy
Our diets, particularly through the consumption of red meat
We're part of global networks, such as C40 External website, opens in new tab, the Urban Sustainability Directors Network External website, opens in new tab, and Carbon Neutral Cities Alliance External website, opens in new tab, that connect and collaborate on ways that cities can play a key role in taking bold climate action and lead the way towards a healthier and more sustainable future.
Taking bold climate actions
Our next action plan focuses on reducing our carbon pollution through 19 proposed actions that focus on how we move around the city, how we build and renovate, and how we amplify.
Equity
The climate crisis hits people affected by systemic vulnerabilities and inequity, the hardest. Low income families and those experiencing homelessness are at much greater risk, even though they have contributed the least to the climate crisis. For that reason, we aspire to be the kind of city that will tackle deep inequalities embedded in our society.
We have formed an Equity Working Group to help inform our Climate Emergency Response. We're looking at leading equity and climate practices to inform our process, as we have a responsibility to address existing inequities, to engage with communities to understand their priorities, to mitigate future inequities, and to collaborate on policies that align with these priorities.
Related plans and strategies
See here the Greenerst City Action Plan 2020
https://vancouver.ca/files/cov/Greenest-city-action-plan.pdf