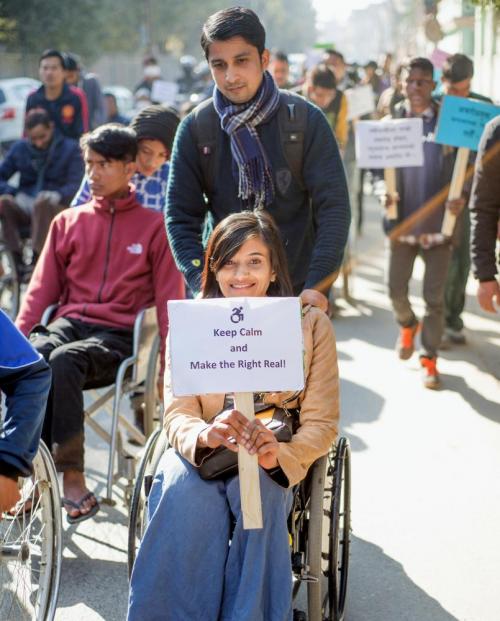 Recently a former colleague of mine, Amrita Gyawali, went to watch a movie at a reputed cinema franchise in Kathmandu, a newly constructed movie theatre in one of the vibrant hubs of Kathmandu. I curiously asked her if she enjoyed the movie, to which she replied that she was unable to enjoy the movie at all. She explained, "I saw a ramp outside the building at the entrance, and I was like WOW, the cinema hall must be accessible as well. When I entered the hall, I saw steep stairs until the last seating row, which restricted me to roll my wheelchair. Due to the lack of ramps built inside the hall and its inaccessibility, I was lifted with my wheelchair by my friends and the staff all the way to our reserved seats. I felt humiliated and uncomfortable. I saw my friends and cinema staff tiring from the effort which I completely understand, may happen. The entire day, I was occupied with my thoughts like, am I not their customer or do I not have the right to enjoy my life to the fullest as others? I felt like a second class customer. It was not my first time where I have encountered such barriers as a customer in Nepal. If a building has a ramp near the entrance, built with the intention to promote accessibility for wheelchair users (and even baby strollers), it does not necessarily mean that it is inclusive. An inclusive environment means individuals with all types of disabilities have the same access to use all services and facilities on an equitable basis to people without disabilities."
The physical barriers that exists in the capital city of Kathmandu is countless; majority of schools, ATMs, banks, telephone service offices, government buildings, public toilets, roads, market areas, among others, are not accessible for all. The other day, when I was in Jhamsikhel, I saw a woman carrying one child and pushing another in the stroller on the pavement. I was disheartened to know the pavement was broken on the other end and that she will have to lift the stroller.
Senior engineer, Ananta Ram Baidya,  questions, if "Nepal is indeed dedicated to ensure public safety for all including for people with disability and the elderly to promote their human rights and dignity, fairness, righteousness without monetary considerations alone?"
Although on 7 May 2010, Nepal became a state party of the Convention on the Rights of Persons with Disability (CRPD) to fulfil all its 50 Articles, many infrastructural barriers are evident which shows there is a lot to be done to achieve Article 9 dedicated to accessibility.
To create accessible infrastructures and safety for all, Mr. Baidya, also the owner of AB&H Engineering & Code Consulting Services, San Diego, suggests, "Equitable, functional and safe access and exit features are required for all people including people with disabilities, at public facilities such as cinema halls. Executing access with safety require dedication, checks and balance oversights, and financing to meet acceptable, functional standards. A safe, inclusive environment includes functioning escape mechanisms during fire and earthquakes emergencies. If comprehensive, functioning access features (ramp systems, pathways, doorway systems, public bathroom facilities, and other) are included during conception, design, and construction, disabled accessibility may not become costly. Fire and earthquake safety requires additional expenses but saves lives and capital when an emergency and disaster situation strikes. Everyone is entitled to safe and nurturing environments."  
Current physical infrastructures pose as barriers for people who use mobility devices discouraging social participation, independence and dignity, putting them in vulnerable situations. Physical infrastructures in the capital city, is also a matter of public safety concern for senior citizens, cyclists, wheelchair users, people with a vision disability, baby strollers and joggers. Strong regulatory mechanisms are needed to ensure correct accessibility standards are incorporated, along with the dire need for everyone to take the initiative to promote accessibility in any possible way.
Samridhi is a graduate of the University of Sydney. She works with Karuna Foundation Nepal. Views expressed are personal not official. samridhirthapa@gmail.com
This article was published in June 2018 by the Himalayan Times, a newspaper of Nepal.