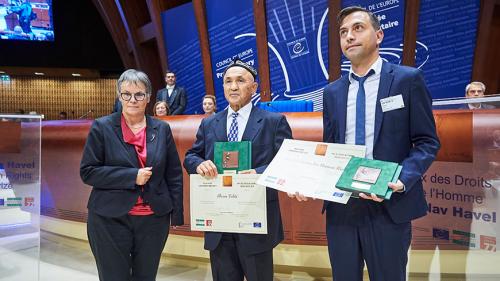 https://pace.coe.int/News/7630
http://www.assembly.coe.int/nw/Page-EN.asp?LID=HavelPrize
https://pace.coe.int/Sessions/201910
The prize was presented at a special ceremony today in Strasbourg, on the opening day of the autumn plenary session of the Parliamentary Assembly of the Council of Europe (PACE).
Ilham Tohti, a renowned Uyghur public intellectual in China, has worked for over 20 years to improve the situation of the Uyghur minority and to foster inter-ethnic dialogue and understanding in China. In September 2014, he was sentenced to life imprisonment. The prize was received on his behalf by Enver Can of the Ilham Tohti Initiative.
The Youth Initiative for Human Rights, established in 2003, promotes reconciliation through building connections between young people across the Balkans from different ethnic groups, regions and countries. By working together for human rights, they aim to build links that can prevent the re-emergence of ethnic conflict in the region.
The action taken by the two prizewinners "carries a message of hope for all those who aspire to build a better world, one where the dignity, rights and basic liberties of everyone are respected and guaranteed," said PACE President Liliane Maury Pasquier. "Today, as we show our recognition and support for them, we also send a message of hope to the millions of people they represent and for whom they work. Human rights have no frontiers."
A representative of the third shortlisted nominee, imprisoned human rights lawyer Buzurgmehr Yorov from Tajikistan, also received a diploma during the ceremony.
The Václav Havel Human Rights Prize is awarded each year by PACE, in partnership with the Václav Havel Library and the Charta 77 Foundation, "to honour outstanding civil society action in defence of human rights in Europe and beyond". It consists of a sum of 60,000 euros, a trophy and a diploma.
Since 2013, the Prize has been awarded in turn to Ales Bialiatski (Belarus), Anar Mammadli (Azerbaijan), Ludmilla Alexeeva (Russian Federation), Nadia Murad (Iraq) and Murat Arslan (Turkey). Last year's winner was Oyub Titiev (Russian Federation), head of the Grozny office of the Memorial Human Rights Center in Chechnya.