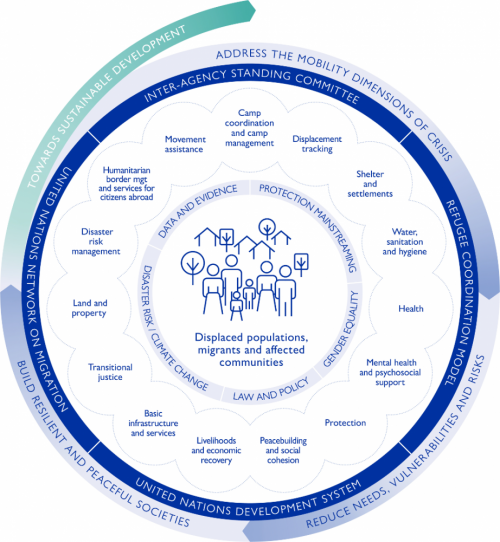 MCOF is designed to bring together IOM's diverse but complementary activities to: 
Uphold human rights and humanitarian principles;
Promote longer-term development goals;
Help crisis-affected populations to better access their fundamental rights to protection and assistance through IOM support to States;
Complement existing humanitarian systems, as well as other systems addressing peace and security and development issues; and
Build on IOM's partnerships with States, international organizations and other relevant actors in the fields of humanitarian response, migration, peace and security, and development.
In late 2021, an Addendum was finalized which supplements the 2012 MCOF. MCOF continues to be IOM's central reference point for the Organization's engagement on the mobility dimensions of crises.  
The strategic qualities of the Framework remain relevant today: IOM responds comprehensively, holistically and inclusively to crises through its own operations, in coordination with Member States and stakeholders and in line with existing response systems.
The MCOF addendum and updated wheel continue to reflect the essence and aspirations of the original Framework but include revised sectors of assistance and introduce operating modalities and cross-cutting issues to support evidence-based, equitable, accountable, principled crisis response.
Click through the rings and circles on the wheel, to learn more about MCOF.
Addressing the mobility dimensions of crisis
The Migration Crisis Operational Framework (MCOF) is IOM's central reference point for comprehensive, inclusive and holistic responses to the mobility dimensions of crisis. MCOF reinforces IOM's humanitarian-development-peace nexus approach to reduce needs, vulnerabilities and risks and build resilient and peaceful societies. MCOF was welcomed by IOM Council through Resolution No. 1243 in 2012. In 2022, it was supplemented by an Addendum which stays true to the strategic qualities of the original Framework, updating some elements to align with internal and external developments since 2012.