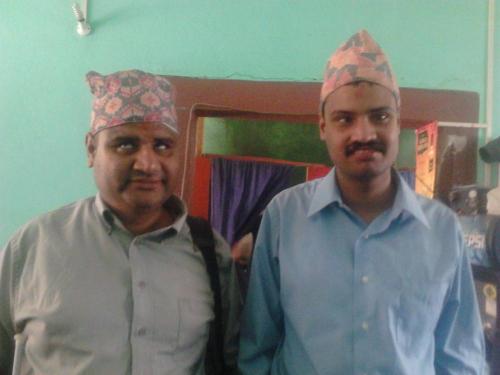 Do you want to hear how to start the New Nepali Year in the best way? Forget parties and crazy dancing and learn from Sushil and Bashudev Adhikari, two brothers busy on that day taking care of visually impaired persons living in strong isolation and deprivation, offering them a free lunch paid for from their own savings.
If you know Sushil and Bashudev, you wouldn't be actually surprised as the two brothers have been always active as caring citizens, looking after those in need. I recall a few occasions where I learnt firsthand the selfless commitment and dedication of the two.
Last December I had attended a workshop organized by the brothers with the aim of awarding and praising exemplary citizens for their inspirational volunteering actions. Adults as well children were celebrated for their free contributions to the society.
During the program some money collected by Sushil and Bashudev during the Deusi Vailo, a singing and dancing tradition played during Tihar celebrations, was donated to Nepal Heart Foundation and Nepal Kidney Centre to treat those who are suffering from various chronic diseases who can't afford treatment.
Without claiming any visibility or publicity Sushil and Bashudev had organized a simple but deeply engaging ceremony praising and celebrating daily actions of care and help.
On a second occasion, I was asked by the Adhikari brothers to meet some young adults from a rural VDC in Kavre district in order to provide some advice and inputs on how to create local ventures in their home place.
Once in the meeting, I soon realized that the young fellows from Kavre had been groomed and advised by the two brothers for long time on how to start up something new and innovative. My job on the occasion was nothing more than offering a few insights because Sushil and Bashudev had already provided plenty of ideas and suggestions on how to start a local organization.
The story of Sushil and Bashudev shows how living with disability is not necessarily a barrier to the creation of common good.
Yes you are guessing right: Sushil and Bashudev are citizens living with disabilities: both of them are blind and despite their impairment, they are incredible examples of how everybody, regarding his or her abilities and disabilities, can contribute to make our society a better place to live.
I hope this story will motivate readers in taking a stand and start doing something without waiting for others to come and help.
I got introduced to Sushil in late 2013through Dale Davis, the Country Director of Helen Keller International. I know Dale from my years spent with the Association of International NGOs and I know how passionate and dedicated she is in her daily work life.
She had told me she knew a couple of brothers totally outstanding and given my work at ENGAGE with visually impaired persons, she wanted to make sure I would not lose this opportunity to meet them.
Dale as always, was absolutely right. Sushil is incredible and his senior brother Bashudev is by any comparison fantastic.
I struggle to find words to describe the power and will of the two brothers who are actually proving how wrong society is with all of its stereotypies about disabilities and abilities, about abnormal versus normal.
Aren't we stupid to think that persons living with disabilities can be only at the receiving end of the equation? Aren't we naïve to imagine that a better society is achievable only by helping those in need and without actually making a real effort to reach out and include in the process those who are supposed to be helped? Shouldn't we be more inclusive when we campaign for a more disabled friendly society?
Persons like Sushil and Bashudev are literally changing the development paradigm by proving not only that persons living with disabilities are part of the solution (rather than the problem) butcan uniquely contribute to make society a better place.
The Adhikari brothers are real social workers: not by technical background or skills but by passion and heart showing how every single citizen can become a social worker by caring for the others.
Notice that the two brothers are totally unassuming and live a very simple and ordinary life far from any kind of luxuries.
It does not matter which professionyou are engaged with or your background or how deep your wallet is or which physical or mental abilities you possess; everybody can play a role and make a little difference.
Disability after all is not apartheid though it often looks like something very similar to a system of segregation and separation.The greatest challenge is to ensure that everybody, not just persons living with disabilities, are committed to campaign to make society more inclusive and disabled friendly. Divisions and rivalries among the same disabled community are nonsense and a waste of time and energies.
In a country like Nepal we have scores of persons living with disabilities who are fighting every single day for their dignity and pride. What are the contributions of people like me, those who are so called "able" persons?
The problem for me is that there is no game changer in playing able versus disable. What we need is to get together to fight for a more equal society. The story of Sushil and Bashudev is showing how persons with disabilities can even go beyond the traditional "disability" sector and have a role as responsible andcaring citizens in helping and supporting those in need.
Sushil and Bashudev are literally breaking down the ability versus disability paradigm.
The Adhikari brothers are the new philanthropists of the 21st century. It is a new way of doing philanthropy and it starts with dedication, sacrifice and pure commitment. It is about giving but in a different way. Let's recognize this and take note. Bill and Melinda are advised.
Ps
If you were around during Election Day last November, guess who you might have seen as election observers?"