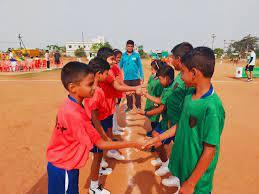 https://www.sportanddev.org/latest/news/embracing-fairplay-fundamental-v...
This article was written by Kumben Aier from Pro Sport Development 
What is fairplay?
In the realm of sports, where fierce competition and the pursuit of victory often take center stage, it becomes crucial to preserve the essence of fairplay. Fairplay encompasses the principles of integrity, respect, and sportsmanship, serving as the moral compass that guides athletes, coaches, and spectators alike. It is a reminder that the ultimate goal transcends victory, emphasizing the importance of ethical behavior and honorable conduct.
Fairplay is a crucial component of athletics, as many athletes and parents would concur. Though it can take many different forms, some examples of fairplay in sports include playing by the rules, respecting opponents, and displaying good sportsmanship.
A famous example of display of fairplay in an international competition was during the 2014 FIFA World Cup - Colombian midfielder James Rodriguez's hopes of qualifying for the World Cup were dashed by his team's 2-1 defeat, despite his record-breaking performance in the tournament, in which he scored six goals. On the Brazilian side, David Luiz, a defender, approached him and motioned for the crowd to applaud for him.
Luiz ensured that the crowd and both teams would acknowledge Rodriguez's outstanding performance, which led to a much happier conclusion to the match.
Importance of fairplay
Fairplay lays the foundation upon which the world of sports stands. It embodies the core values that shape the character of athletes and create an environment conducive to healthy competition. By adhering to the principles of fairness, honesty, and respect, participants not only enhance their own sporting experiences, but also contribute to the integrity of the game.
According to a 2017 study by Fair Play and Happiness Through Sports (FAIRHAP), the following techniques are the most widely used to instill fairplay values in student-
athletes:
Teaching athletes mutual respect, both physically and philosophically, particularly when conflicts arise.
Encouraging students to examine their own actions and consider how they might behave better.
Scheduling games between teams with varying skill levels to change the level of competition and teach students how to win and lose graciously and with humility.
Selecting activities that emphasize lessons in sportsmanship and fairplay.
Creating an environment where students expect to learn while they are playing or training.
Fostering a sense of teamwork in students by having them collaborate with their peers.
Facilitating discussions on subjects that will encourage students to reflect on their own perspectives.
Role of facilitators
During sessions, a facilitator must prioritize promoting good sportsmanship. Facilitators should keep in mind that children look up to them as role models, especially when working with younger athletes. In addition to providing children with rigorous athletic training, facilitators should instill good values. They must foster high ethical standards and foster a culture that puts the team first, and make sure that the emphasis is on developing crucial skills, on and off the pitch, while striving to achieve a common objective.
Facilitators should act as role models by encouraging good sportsmanship, which will help children develop more positively. Values like respect, commitment, and discipline can be encouraged through sports. Both the growth of athletic prowess and these sportsmanship principles are crucial.
Embracing fairplay
According to a recent NCAA study, sportsmanship among players has improved over time, but it has declined among parents and spectators.
It is understandable for both parents and children to become overly engrossed in a game and focused on winning. Even though winning is crucial, it is not always the most important part of the game. An athletic experience can teach you many lifelong lessons and provide many benefits. The virtues of fairplay are life lessons that need to be consciously learned, imparted, practiced, and reinforced.
We cannot consistently succeed at everything, no matter how much we would like to.
We must therefore teach young people to learn how to accept failure, as it can be extremely challenging to look ahead after a game that was fiercely contested, and in which everything that was left on the field was a losing effort. But like Knute Rockne, football player and Coach at the University of Notre Dame, said: "One man practicing sportsmanship is far better than a hundred teaching it." Do not just simply say, "be a good sport." Model it, teach it, expect it.