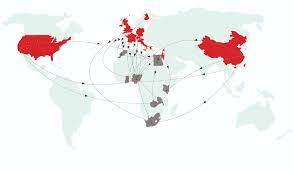 https://www.ids.ac.uk/news/african-nations-spending-1bn-a-year-on-harmfu...
The research, published by the Institute of Development Studies and the African Digital Rights Network is the first comprehensive study of the supply of surveillance technology to governments in Africa to monitor their own citizens – often in violation of constitutional, international, and domestic law – suppressing democratic debate or political challenge.
Mass citizen surveillance
Nigeria is the largest customer of digital surveillance, with at least US$2.7bn spent on known contracts with China, US, Israel, Australia, EU and UK-based companies, in a decade-long surveillance spending spree. That is the equivalent of $12 per Nigerian citizen.
The technology bought is enabling mass citizen surveillance via mobile spyware, internet interception, biometric ID data collection and social media monitoring. It also includes facial recognition and car number plate recognition – often as part of the China-based companies' surveillance for monitoring citizens in public spaces known as 'safe city'.
Entitled, Mapping the Supply of Surveillance Technologies to Africa, the report is published at a time of increasing unease about the checks and balances for the use of AI, and the potential for misuse by increasingly authoritarian governments.
The report calls for the abolition of rights-violating surveillance technologies and for the defunding of mass surveillance of citizens.
Tony Roberts, Research Fellow at the Institute of Development Studies and editor of the report, said:
"Under the pretext of national security, governments are exceeding their legal powers of surveillance and they do so with impunity, even when caught red handed."
"We're particularly concerned about the chilling effect mass surveillance is having on citizens, stifling debate, and damaging democracy. It is taking a huge toll on human rights – causing long-term physical and psychological harm to individuals unjustly targeted by surveillance tech, often held without trial and even tortured by authorities."
Safe city surveillance from China
The research shows that Chinese banks offer huge loans to governments to buy packages of safe city surveillance technologies from companies including China-based Huawei and ZTE, often including the installation of thousands of CCTV cameras and command and control room data centres to monitor citizens in public spaces in real time.
The US company Honeywell's safe city package, for example, has been adopted for use in Egypt. Elsewhere, Ghana, Morocco, and Zambia have each spent over US$250m on mass surveillance safe cities from China. In Nigeria, Huawei and ZTE provide extensive CCTV camera surveillance with facial and car number plate recognition in Lagos and Abuja. Out of the five countries studied, Malawi is the only one to have rejected the safe city surveillance package offered by Chinese companies.
Tony Roberts, continued:
"There is nothing safe about so-called 'safe cities' if you're an innocent citizen being targeted for your political views.
"We have found students and human rights activists being tracked, arrested and detained for simply expressing opinions on social media.
"On top of the personal costs there are the enormous financial costs that could be better spent on vital public services. We have uncovered surveillance technology contracts worth billions of dollars, but due to the secrecy surrounding the contracts, this is just a fraction of what the true total spend will be."
By investigating the supply chains of surveillance technologies, the researchers found that companies in the USA and Europe are losing their historical domination of the market to provide technologies of phone and internet surveillance in Africa to Chinese companies Huawei and ZTE.
The USA and the UK dominate the provision of social media surveillance and 'political marketing' consultancy to manipulate voter beliefs and behaviour. Germany, Italy, and Israel are the major exporters of mobile phone hacking malware. Chinese companies dominate public space surveillance via safe city surveillance systems.
The human cost of digital surveillance technologies
In Nigeria, Solomon Akuma, a pharmacist, was arrested on 2 April 2020, in Aba, Abia State, for allegedly making a social media post critical of President Buhari and his late Chief of Staff, Abba Kyari. Akuma was held in detention for three months without trial. He was eventually brought before the courts for charges of terrorism, sedition, criminal intimidation of the president, and threat to the life of the president.
In Malawi, Gregory Gondwe, an investigative journalist, was arrested in April 2022. According to Gondwe's account of events surrounding his arrest, the police had been tracking his phone conversations and they knew his exact location. There is no known technology that the police use to track or eavesdrop on people's phone calls, but it could have been aided by his mobile phone as SIM registration is mandatory in the country and linked to national digital ID. The police also confiscated his mobile phone, suggesting a surveillance case. A few weeks later, the Platform for Investigative Journalism website, where Gondwe's work is published, was hacked, and believed to be connected to Gondwe's arrest.
In Ghana, Emmanuel Ajarfor Abugri and his journalist colleague were arrested together and tortured by security agents. They had their phones and laptops confiscated and accessed by police officers. Upon their release from custody, only their phones were returned and the police kept their laptops.