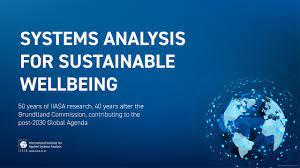 https://iiasa.ac.at/news/sep-2023/iiasa-flagship-report-illuminating-pat...
The IIASA Flagship Report chronicles the extraordinary 50-year journey of IIASA, a globally renowned institute providing systems analytical expertise on complex global challenges. Co-sponsored by the Permanent Missions of Austria and South Africa to the UN and supported by the Department of Science and Technology of South Africa, the launch event unveiled crucial insights from the report. Notably, the publication features a foreword contribution by H.E. Alexander Van der Bellen, the Federal President of the Republic of Austria, who has been a steadfast supporter of IIASA and its research initiatives.
The launch event brought together policymakers, scientists, and representatives from various sectors to discuss the report's key aspects and the importance of advancing the 2030 Agenda. Several leading IIASA researchers and high-level collaborators including Csaba Kőrösi, President of the 77th session of the UN General Assembly; Stefan Pretterhofer, Deputy Permanent Representative of Austria to the UN, Sepo Hachigonta, Director of Strategic Partnerships, National Research Foundation of South Africa; Nyovani Janet Madise, Director of Research for Sustainable Development Policies and Head of the Malawi office, African Institute for Development Policy (AFIDEP); and Adil Najam, President of WWF International, participated as speakers.
The report places significant emphasis on the 2030 Agenda, its 17 Sustainable Development Goals, and the imperative to achieve sustainable wellbeing for all. As we approach the mid-term review point, the report offers a comprehensive perspective on the interconnected challenges and opportunities we face, aligning with the overarching theme of the 78th session of the UN General Assembly, titled "Rebuilding trust and reigniting global solidarity". This is especially relevant as we find ourselves at the beginning of a new phase of accelerated implementation of the 2030 Agenda, which is being called for in the draft political declaration to be approved at the session.
The publication is organized into six parts, summarizing past and current IIASA research highlights and pointing toward future challenges and solutions. In the final chapter, the authors offer three critical policy messages to stimulate discussions about a post-2030 Agenda for Sustainable Development:
Suboptimization is suboptimal: Mainstream a systems-analysis approach into policymaking at all levels to ensure that broader, longer-term considerations are incorporated.
Enhance individual agency: Provide equal access to quality primary and secondary education for all, and in particular for women, as a means of promoting gender equality and empowerment.
Strengthen collective action and global governance: Harness global cooperation and representation to support the global commons.
With its international credibility, neutrality, and systems science approach, IIASA stands as a vital resource in addressing global challenges and fostering cooperation between diverse communities on matters of shared concern. As the institute enters its sixth decade, it remains steadfast in its commitment to advancing integrated systems science to ensure sustainable wellbeing for all.
"This report is a testament to the unwavering dedication of IIASA to addressing global challenges for the past five decades and its commitment to continue to do so. It showcases our evolution from a cooperative scientific venture during the Cold War to a global institute at the forefront of solving humanity's most pressing issues today," notes IIASA Interim Deputy Director General for Science, Wolfgang Lutz.
Shonali Pachauri, who leads the Transformative Institutional and Social Solutions Research Group at IIASA, highlighted the report's relevance to ongoing global efforts, saying, "IIASA's integrated systems approach and international credibility makes it an invaluable asset in addressing the interconnected global challenges we face today. From climate change to biodiversity loss and pandemics, IIASA's work is more critical now than ever."
Reference
Lutz, W., & Pachauri, S. (Eds.) (2023). Systems Analysis for Sustainable Wellbeing. 50 Years of IIASA Research, 40 Years After the Brundtland Commission, Contributing to the Post-2030 Global Agenda. International Institute for Applied Systems Analysis (IIASA), Laxenburg, Austria. DOI: 10.5281/zenodo.8214208 [pure.iiasa.ac.at/18965]