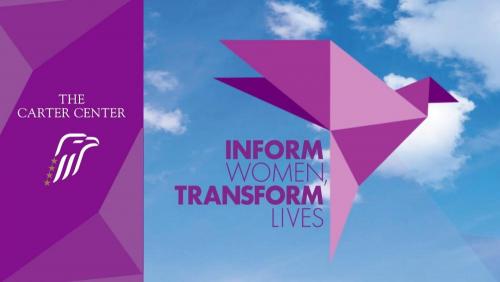 https://www.cartercenter.org/peace/ati/info4women.html
Information has the power to transform lives. The fundamental right of access to information is critical for both governments and the people they serve and is particularly crucial for women. It provides for a more meaningful voice, enabling women to participate in public life, access public services, and make better decisions for themselves, their families, and their communities.
Yet for many women, the power of information remains unreachable.
Women are less likely to demand and receive access to information, yet they are often responsible for earning income and caring for family; are more likely to be poor or illiterate; are less likely to participate or use their voices; are more susceptible to and affected by corruption; and are sometimes in danger of retribution in cultures dominated by men if they ask for information. 
The Carter Center's groundbreaking Inform Women, Transform Lives campaign is working to change that. Through the campaign, the Center partners with city leaders around the globe to raise awareness about women's right to information and to help cities provide women with information about beneficial city services.
The campaign launched in 2021 in 12 inaugural cities: Amman, Jordan; Atlanta, USA; Buenos Aires, Argentina; Cape Town, South Africa; Chicago, USA; Colombo, Sri Lanka; Dublin, Ireland; Guatemala City, Guatemala; Kampala, Uganda; Lima, Peru; Monrovia, Liberia; and São Paulo, Brazil.
In 2022, the campaign expanded to include Birmingham, United Kingdom; Bogota, Colombia; Dhaka North, Bangladesh; Freetown, Sierra Leone; Maputo, Mozambique; Montevideo, Uruguay; Nairobi, Kenya; Paris, France; Santo Domingo, Dominican Republic; Tunis, Tunisia; and Washington, D.C., USA.
In 2023, the campaign expanded again, adding Accra, Ghana; Baltimore, Maryland; Dar es Salaam, Tanzania; Glasgow, Scotland; Kathmandu, Nepal; Lagos, Nigeria; Mérida, Mexico; Quezon City, Philippines; Quito, Ecuador; Rio de Janeiro, Brazil; Rotterdam, The Netherlands; and Santiago, Chile.