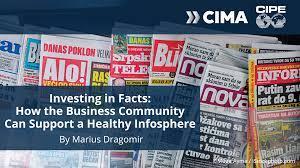 KEY FINDINGS 
https://www.cima.ned.org/publication/investing-in-facts-how-the-business...
Independent media around the world are in crisis. Failing market conditions, the loss of advertising revenue to big tech, and autocratic encroachment in the media sector have made it difficult for even the best news outlets to protect their editorial independence and remain financially resilient. In countries with high levels of government control in the media, independent journalism is in an even worse state. Given the immense challenges independent journalism is facing, greater engagement of the private sector is critical to help save it. The business community also has much to gain as a healthy information space can strengthen markets and protect brand integrity.
Case studies in Czechia, Romania, and Serbia show that the private sector can and does play a role in protecting information integrity. While most initiatives are modest in scope, they provide inspiration for engaging the private sector to help combat information disorder and solve the myriad challenges independent media in the region face.
– Despite a growing awareness that a healthy information space is essential for business to thrive, many private sector actors are hesitant to support independent journalism out of lingering mistrust and fear of government retaliation.
– The private sector's contribution to protecting information integrity in Central Europe has been strikingly modest. Understanding what motivates the business community and designing new models of support are crucial for incentivizing private sector support.
– There is no single, universally applicable model for unlocking private capital and enhancing the role the private sector can play in supporting a healthy information space. The particularities of the private sector, as well as the local political and economic context, greatly influence the forms of engagement and levels of support businesses can provide