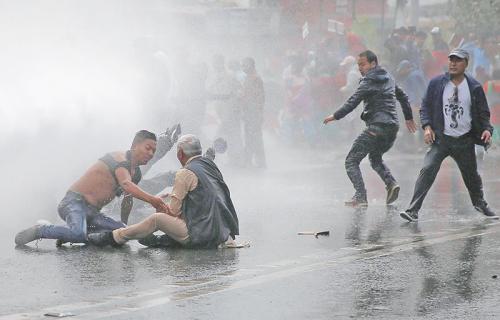 Link  1 https://thehimalayantimes.com/kathmandu/locals-stage-protest-against-roa...
March 28
Tension ran high in Baneshwor today after Nepal Police fired seven rounds of tear gas and used water cannon in a 'peaceful protest rally' organised by locals and members of various organisations of Kathmandu and Khokana against the ongoing road expansion.
Water cannon being fired towards protesters to disperse the crowd during a protest against the road expansion projects causing people in the affected areas to lose their houses and lands in Kathmandu, on Wednesday, March 28, 2018. Photo: Reuters
People shouted slogans against the ongoing road expansion drive in Kathmandu valley and other projects like Kathmandu-Tarai expressway, outer ring road, satellite city and couple of other development projects saying that such projects had posed a serious threat to cultural and religious heritages.
The protest was supported by thousands of locals of Kathmandu, and organisations like Road Expansion Affected Struggle Committee, Nepal Youth Organisation, Nepal Cultural Restoration Campaign, Save Nepal Valley Campaign and Fast Track Victims. The organisations are mostly represented by Newari community.
The peaceful protest turned violent after some people from agitators' side started pelting stones at security personnel near Maitighar.
Police than arrested three people from Maitighar and the rally moved towards Baneshwor. But, when the security force tried to stop the rally at Baneshwor Chowk, the peaceful protest turned violent once again and police had to fire tear gas shells and use water cannons to bring the situation under control.
According to police, four people from protester's side and two security personnel suffered injuries and are undergoing treatment at Kantipur Hospital and Everest Nursing Home in Baneshwor. Two police vehicles were also vandalised during the incident.