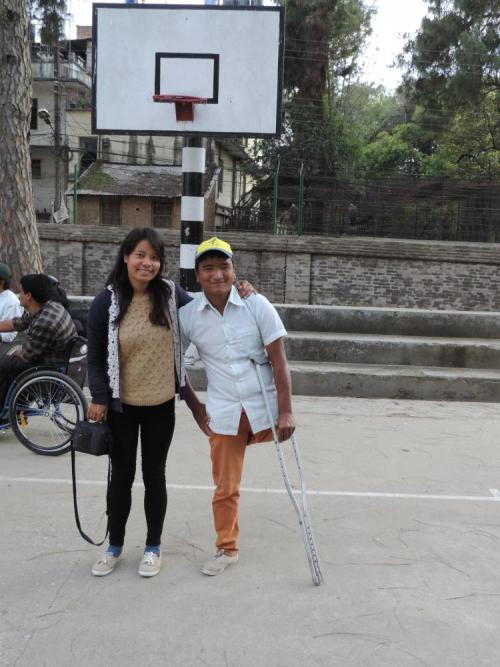 Hey people, you must be wondering to know who are these crazy peoples behind ENGAGE that are trying hard every day to help  youths living with disabilities,  facilitating their self  empowerment process, ultimately contributing to create more a inclusive society. One important thing, we need to make it clear: while we do our best to help them out, we learn tremendously by them. Trust me
Yes!! Our team is very much determined and inspired working every day to put smiles in people's face.
I personally feel happy, when I can make people happy. I love helping, and volunteering is my passion. I am fully satisfied with the work that I am doing at ENGAGE, despite of having no salary. My name is Kusum, working full time   at ENGAGE, as Program Coordinator. I recently completed my Bachelor degree in Development Studies with Kathmandu University.
Apart from my full time, work commitment at ENGAGE, I am taking out 2 hrs of time once in a week to coach Kul. 'Now you must be wondering who Kul is. Kul is one of the young wheelchair basketball players at Jawalakhel Team:  a shy 16 year old boy, who is studying in class 5.
Kul  is living in St. Xavier Service Center, in a hostel with his some friends who are also players of the team. There is no doubt that he is one of the best players in the team. But, despite of being a very talented player,  Kul  is struggling a lot in his studies.
My duty as coach is trying to figure out ways for Kul to do better at school. I am a kind of morale and support booster.
Most recently, I came to know that he failed in 8 subjects out of 9. He also had some fights with some of his hostel mates and this had a bad impact on him.
So I feel like helping as he shared with me that despite the difficulties, he wants to study. Since then, now it has been four weeks, I am continuously visiting him and seeing how he is progressing in his studies. I am not directly teaching or giving him tuition classes, but acting more like his Big Sister. Every time I go, I spend time with him and talk about his personal stuffs, study and so on. The most amazing part is, when I am with him, all his friends joins us and makes the meeting more fun and happening.
I love spending time with him and his friends. In order to have a regular update on him, his friends Beg and Deepak, themselves basketball players are really helping me to understand what he does in the entire weeks and they are showing a lot of caring towards him by monitoring on my behalf when I am not there.
Big thanks to his friends for helping me and Kul on this. I don't say that he has improved but at least, he is trying his best by doing his regular school homework.