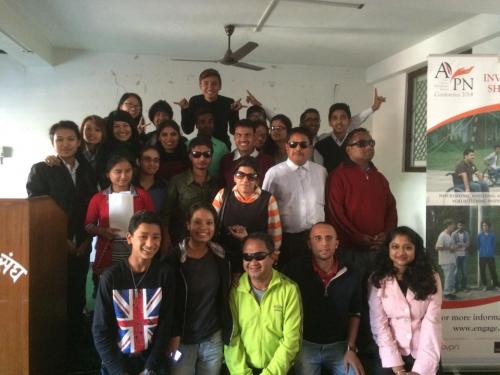 ENGAGE, the not for profit focused on inclusive volunteering, has been working in the field of education and sports since the beginning of 2013, creating opportunities of self development for persons living with disabilities. For us at ENGAGE volunteerism is a platform for empowerment and sport and education the two areas to bring tangible changes for those living with disabilities.
As Coordinator of the programs, I can assure that we did achieve quite a lot in the recent times and we had also quite a lot of time. We are a mini team, very few people but all super committed and determined to achieve our mission and goals.
Recently, in 2014 August, ENGAGE graduated 37 Corps members enrolled in our 3 programs: Coaching4Fun (C4F), the wheelchair basketball coaching program, Guiding Hands (GHs), learning support for youth with visual impairment and Coaching for Learning (C4L) that offered tailored made support to disadvantaged children.
First of all, let me explain who is a Corp: generally speaking the Corp is a young Nepali citizen who is studying at university or s/he is at initial stage of his/her professional career. All Corps give commit at least 6 months to part time volunteer in the field of disabilities.  So far we got 51 Corps and now we are working hard to get Corps also coming from youth living with disabilities.
As person in charge of recruiting, selecting, training and monitoring all Corps, I feel a great level of satisfaction in what we have been doing. It has not been easy, especially now when ENGAGE is truly trying raising the "bar"; working hard to progress and trying to implement right steps after recognizing the lessons learned from the previous batches. We did learn quite a lot and also we had some "failures" that we humbly accepted. The same failures offered us additional motivation to do better and increase our effectiveness.
Now with the new batch coming to life, we are really excited. Now we will have 15 new Corps that will be involved with GHs and C4F. They are officially starting to volunteer from the first week of November after passing through a long process of selection, recruitment, training and meetings.
This time in relation to GHs, ENGAGE has partnered closely with key stakeholders (Nepal Association of Blind, Nepal Association welfare for Blind, Cricket Association for Blind, and NCISA) and with ENGAGE friends, all activists in the field of disabilities (Sushil Adhikari, Sristi K.C., Birendra from Abilis Foundation) in order to improve the project with their insights and suggestions. This really helped tremendously.
ENGAGE pushed itself a lot to find and select the new Corps members for this new batch. The potential Corps had to go through two levels of interview in order to be selected as ENGAGE Corps. They were trained adequately on volunteerism, personal accountability and communication, introduction to United Nation Convention for Rights of Person living with disability (UNCRPD), Inclusive Education for the children with Disability in Nepal and so on.
We are working hard for Corps' in building their capacity and trying to offer full course of Braille training and various Monthly Lectures throughout their volunteering period. We believe that these training will help Corps to be motivated and encouraged in order to volunteer with their full potential. We think, this time we have become able to select the best Corps in terms of reliability, commitment, accountability and communication.
We are very glad and excited to work and start with new Corps. We expect their cooperation and good coordination throughout their volunteering period in order to achieve successful, impactful and effective outcomes for our beneficiaries.  
Nowadays we are also trying to raise funding that will allow us to scale up our work and strengthen our organization and, be able, to pay some minimal overheads. It is not easy to convince people about our work but we believe a lot in our work and we believe we are truly innovative.  
We are pleased to announce Pragya (new, Guiding Hands Supervisor) and Dikshya (intern, assisting to run Friends of ENGAGE) ENGAGE's new supporter who will be helping us voluntarily. They are warmly welcome to ENGAGE team. They did a really good start. Dikshya made a good start organizing Deusi-Vailo, a traditional singing performance where youth visits house by house during the festival of dipawali, the festival of lights that was celebrated at the end of October. She and her friends raised Nrs. 4000 for ENGAGE. We would like to give tons of thank to Dikshya and her friends for making effort in good cause.
To talk about Pragya, she is our one of the best former Corps member, who is motivating factor for new batch Corps members' to start with fun volunteering experience.
Last but not the least, we must be thankful and we should acknowledge ENGAGE's friends who are offering pro bono advice, suggestions, lectures and training for running ENGAGE Corps program.