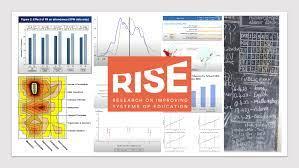 SEPTEMBER 25, 2023
he annual conference for the Research on Improving Systems of Education (or RISE) program took place last week. It's a great opportunity to see some of the latest research on education in low- and middle-income countries. This year, scholars shared lots of research on teachers, technology, long-term trajectories of educational interventions, and more.
Here's a round-up of the results presented. (In many cases, I indicate the statistical method the study used with a hashtag after the study summary.) I culled these from the papers (when those were posted) and from the videos of the conference (when papers weren't available). If you're interested in learning more, you can delve into the papers or the videos yourself! Happy learning!
Teachers
Technology
Trajectories
COVID-19
Foundational literacy and numeracy programs
Support to teachers and schools
Instructional coherence
Disclaimer
CGD blog posts reflect the views of the authors, drawing on prior research and experience in their areas of expertise. CGD is a nonpartisan, independent organization and does not take institutional positions.
TOPICS
BIO
David Evans is a senior fellow at the Center for Global Development, working on education, health, and social safety nets. Previously he was at the World Bank, where he co-authored the World Development Report 2018, Learning to Realize Education's Promise, coordinated impact evaluation work for sub-Saharan Africa, and managed education projects in Brazil. Evans has evaluated education, early child development, agriculture, health, and social safety net programs in Brazil, the Gambia, Kenya, Mexico, Nigeria, Sierra Leone, and Tanzania. He received a PhD in Economics from Harvard University, specializing in economic development and labor economics.
He has a personal website at https://sites.google.com/site/davidkevans/.