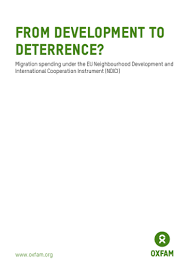 https://policy-practice.oxfam.org/resources/from-development-to-deterren...
On 14 June 2021, the EU Neighbourhood, Development and International Cooperation Instrument (NDICI) was adopted with a budget of €79.5bn, of which 10% is allocated to migration-related actions. 93% of NDICI funds must comply with Official Development Assistance (ODA) criteria.
An Oxfam analysis of the ODA eligibility of NDICI funded migration projects in Libya, Tunisia and Niger finds that a significant portion of the projects contain elements that may limit ODA eligibility and appear to prioritise the EU's domestic migration concerns over development objectives. Moreover, insufficient documentation hinders the monitoring and democratic scrutiny needed to ensure NDICI migration programming meets the EU's legal obligations for development spending.