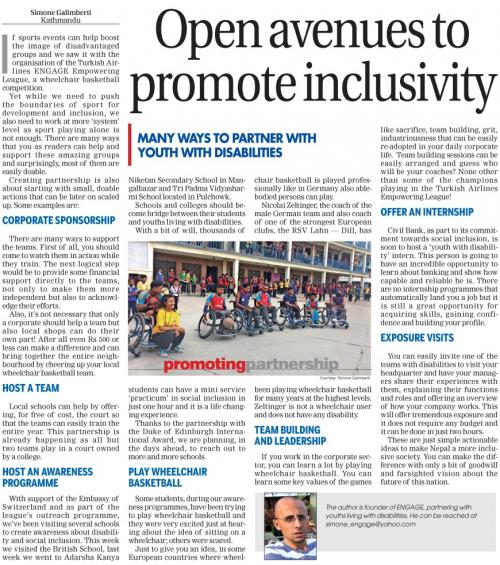 If sports events can help boost the image of disadvantaged groups and we saw it with the organization of the Turkish Airlines ENGAGE Empowering League, a wheelchair basketball competition.
Yet while we need to push the boundaries of sport for development and inclusion, we also need to work at more "system" level as a sport playing alone is not enough.
There are many ways that you as reader can help and support these amazing groups and surprisingly, most of them are easily doable.
At the end of the day, creating partnership is also about to start with small, doable actions that can be later on scaled up, below some examples. Here some ideas on how to partner with the wheelchair basketball teams involved in the League.
Corporate Sponsorship
There are many ways to support the teams. First of all, you should come to watch them in action while they train. They do on weekly basis and you will be surprised how good they are.
The next logical step would be to provide some financial support directly to the teams, not only to make them more independent but also to acknowledge their efforts.
In Europe, where wheelchair basketball is played professionally, some of the top teams have big endorsement from the corporate sector. In the case of Briantea84, the Italian Champion and finalist in the European Champion League, UnipolSai, one of the biggest life insurances in the country, is the main sponsor together with a multitude of other companies.
Not necessarily only a corporate should help a team but also local shops can do their own part! After all even 500 NRS or less can make the difference and can bring together the entire neighborhood by cheering up your local wheelchair basketball team.
Host a Team for training
Local schools can help a lot by offering, for free of cost, the court so that the teams can easily train during the entire year. This partnership is already happening as all but two teams play in a court owned by a college. In some cases it has been very easy to convince the management but in other cases, it has been extremely complex and it should not be the case.
Host an awareness program
With support of the Embassy of Switzerland and as part of the League' outreach program, we have been visiting several schools to create awareness about disability and social inclusion. This week we have been to the British School, last week we visited Adarsha Kanya Niketan Secondary School in Mangalbazar and Tri Padma Vidyasharmi School located in Pulchock.
Kids do not only learn about social inclusion and disability, not only watch our champions play but also have a firsthand opportunity to play on a wheelchair that is something itself very educative and fun at the same time.
Schools and Colleges should become bridge between their students and youths living with disabilities.
With a bit of will, thousands of students can have a mini service "practicum" in social inclusion in just one hour and it is a life changing experience.
Thanks to the partnership with the Duke of Edinburgh International Award, we are planning, in the days ahead, to reach out more and more schools.
Play wheelchair basketball
We just said that some students, during our awareness programs, have been trying to play wheelchair basketball. Some of them were very excited just at hearing about the idea of seating on a wheelchair, other are scared.
Just to give you an idea, you should know that in some European countries where wheelchair basketball is played professionally like in Germany also able bodied persons can play, make the sport truly inclusive.
Nicolai Zeltinger, the Coach of the male German team and also coach of one of the strongest European clubs, the RSV Lahn - Dill, has been playing himself wheelchair basketball for many years at the highest levels.
Nicolai is not a wheelchair user and he does not have any kind of disability.
Team Building and leadership through wheelchair basketball
If you work in a corporate sector, you can learn a lot of things by playing wheelchair basketball. You can learn some key values of the games like sacrifice, team building, grit, industriousness that can be easily re-adopted in your daily corporate life. Coach Wooden, the most successful basketball coach in the American college system, even wrote several books on the values of the game and their daily application to enhance your leadership skills and make your work more productive.
Team building sessions can be easily arranged and guess who will be your coaches? None less than some of the champions playing in the Turkish Airlines Empowering League!
Offer an internship
Civil Bank, as part to its commitment towards social inclusion, is soon to host a youth with disability as intern. This person is going to have an incredible opportunity to learn about banking and show how capable and reliable he is. There is no internship program that automatically land you a job but it is still a great opportunity for acquiring skills, gain confidence and build your profile, a win win for a youths with disabilities without prior experience.Why not talking with your HR department and explore this opportunity?
Exposure Visits
You can easily invite one of the teams or any other youths with disabilities to visit your headquarter and have your managers sharing their experiences with them, explaining their functions and roles and offering an overview of how your company works. This will offer tremendous exposure and it does not require any budget and it can be done in just 2 hours.
These are just simple actionable ideas to make Nepal a more inclusive society. You can play a role and make the difference only with a bit of goodwill and farsighted vision about the future of this nation.