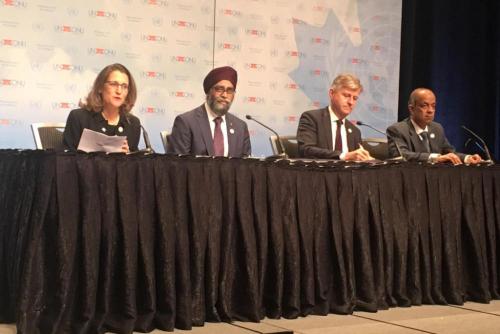 From: https://peacekeeping.un.org/en/un-peacekeeping-defence-ministerial-confe...
The Peacekeeping Defence Ministerial Conference will be held at Vancouver, Canada between 14 and 15 November 2017.
Start date: 
Tuesday, November 14, 2017
End date: 
Wednesday, November 15, 2017
Canada will host the 2017 UN Peacekeeping Defence Ministerial on November 14-15 in Vancouver, British-Columbia. This conference is the largest gathering of Defence ministers dedicated to UN Peacekeeping. The goals of this conference are:
to measure the progress made since the 2016 UN Peacekeeping Defence Ministerial;

to encourage new pledges from Member States,

particularly in areas where the UN faces gaps, such as rapid deployment, helicopters and francophone units;

to advance peacekeeping reform through the efforts of Member States and the UN to improve the UN's capacity to better plan and perform peacekeeping operations;

to foster pragmatic and innovative solutions to make peacekeeping operations more effective, by building on the "3Ps" (pledges, planning, performance) with a new focus on partnerships.
Peacekeeping has the power to transform the world but bold innovations are needed to make UN missions more effective in the years ahead, according to Canadian Prime Minister, Justin Trudeau, in his key address to the UN Peacekeeping Defence Ministerial conference, taking place in Vancouver.
UN Peacekeeping Chief, Jean-Pierre Lacroix, who is representing the Secretary-General, told the largest annual meeting of defence ministers from around the world that the challenges missions face could be overcome, but "we cannot do it alone".
The meeting, hosted by Canada, began with the last post, in honour of UN blue helmets who have lost their lives over the past 70 years.
Mr Lacroix said peacekeeping missions faced greater challenges than ever before, and there were crucial gaps such as helicopters and better-qualified personnel, which are urgently needed to be filled.
"We can overcome these challenges; we cannot do it alone. We need you, we need your support, we need the support of troop-contributing countries, we need the support of civil society, and outstanding leaders who can help us in defence, and in support of the UN. So, we at the UN will work tirelessly to make UN peacekeeping more effective and more efficient."
Mr Lacroix said that a greater focus was needed on key priorities, finding political solutions to intractable conflicts, and boosting the presence of women so that peacekeepers could truly be a "force for peace and justice".
Canadian Prime Minister Justin Trudeau made the first so-called "smart pledges" of the day, designed to fill gaps in dangerous missions in countries such as Mali and the Democratic Republic of the Congo.
He unveiled the new Vancouver Principles on preventing child soldiers from even reaching the battlefield, and promised that Canada would do all in its power to help transform UN peacekeeping.
Mr Trudeau also announced new initiative to increase womens' participation as the best way of tackling root causes of conflict; new training teams which would aide blue helmets before and during deployment; and tangible assets such as a tactical airlift capability for the UN's transport hub in East Africa.
On Wednesday, UN peacekeeping briefed delegates on the situation in Mali, where UN peacekeepers are deployed since 2013. Under-Secretary-General Lacroix and Under-Secretary-General for Field Support gave an overview of the critical gaps the mission faces that need to address so that peacekeepers can do even more to bring stability and peace to the country
From http://www.un.org/apps/news/story.asp?NewsID=58100#.Wg0ryohx3IU
5 November 2017 – Dozens of new pledges of military equipment and expertise to make United Nations peacekeeping missions around the world more efficient, effective and reactive, were made at the UN Peacekeeping Defence Ministerial Conference, in Vancouver, Canada, on Wednesday.
A total of 79 Member States sent delegations of ministers and defence chiefs to Vancouver, which hosted around 550 delegates to discuss the ever-more dangerous and complex challenges faced by peacekeepers and support staff in the field, across 15 UN missions.
Many new 'smart pledges' were made, designed to fill specific gaps and deficiencies, such as helicopters and armoured personnel carriers for the UN's most dangerous peacekeeping mission in Mali, known by its French acronym, MINUSMA.
Canada, which hosted the event, announced that 54 countries would sign on to the 'Vancouver Principles' on the prevention of the recruitment and use of child soldiers in peacekeeping operations.
The long-standing aim of increasing the level of women peacekeepers and police officers also received a major boost with 26 countries pledging to integrate gender perspectives and increase women's participation.
An international military-led gender champion network led by Canada, the United Kingdom and Bangladesh was also formed.
UN Under-Secretary-General for Peacekeeping Operations Jean-Pierre Lacroix told the closing session the concrete pledges had "demonstrated there is a collective engagement, a collective commitment to peacekeeping; to supporting us, to make our action more effective, with one key objective, which is to protect civilians and help restore peace."
For his part, the Under-Secretary-general for Field Support, Atul Khare, told delegates he had a dream, to see a world without peacekeeping, which was at peace with itself.
"Until that day dawns, we must continue to meet" he stressed, thanking the delegations and other contributors, which had made new peacekeeping pledges.
Earlier in the day, as morning sun finally pushed through the heavy rain clouds over Vancouver harbour, Angelina Jolie, the Special Envoy for the Office of the UN High Commissioner for Refugees (UNHCR), gave a powerful keynote speech debunking what she called the "three myths" of gender-based violence in conflict, saying that there is never an excuse for sexual abuse.
She thanked the ministers and top military personnel for the "new and very important pledges" made in Vancouver saying that she hoped "they will be just the beginning."
"In this work, we will not only strengthen our societies and improve peacekeeping, but you will play your part in showing that no perpetrator is above the law, and no survivor is beneath it," she said, adding that she was "here, determined to do anything I can, to work alongside all of you."
We […] will work tirelessly to make UN peacekeeping more effective and more efficient UN peacekeeping chief Lacroix
At the opening of the Conference Wednesday morning, Mr. Lacroix told the gathered delegations that the UN could not overcome the challenges of peacekeeping reform alone.
"We need you, we need your support, we need the support of troop-contributing countries […] and outstanding leaders who can help us in defence and in support of the UN," he said.
"We at the UN will work tirelessly to make UN peacekeeping more effective and more efficient," pledged the Under-Secretary-General.
In a major policy speech on the future of Canadian peacekeeping, Prime Minister Justin Trudeau announced the first 'smart pledges' of the day, and unveiled the new Vancouver Principles – agreed already by 55 countries – to try and prevent child soldiers from ending up in the world's conflict zones through an array of initiatives and programmes.
"We believe in peacekeeping" Mr. Trudeau, as he passionately described its ability to transform the world for the better.
"We know there is no greater gift that we can leave our children than true and lasting peace. So let's be bold, let us innovate – let us try new things," he told the ministers and defence chiefs from 79 countries.
"Let us be the change we need, to build a more peaceful world together."