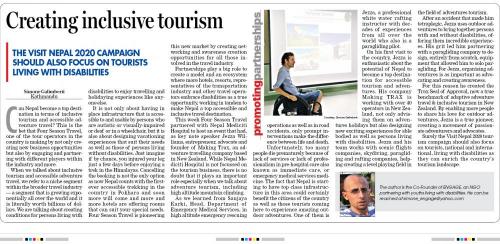 Can Nepal become a top destination in terms of inclusive tourism and accessible adventure travel?
This is the bet that Four Season Travel, one of the leading tour operators in the Country is making by not only creating new business opportunities but also by engaging and partnering with different players within the industry and more. (Disclosure, Four Season Travel has been one of the sponsors of the Turkish Airlines ENGAGE Empowering League organized by ENGAGE).
When we talked about inclusive tourism and accessible adventure travel we refer to a niche segment within the broader travel industry, a segment that is growing exponentially all over the world and it is literally worth billions of dollars.
We are talking about creating the conditions for persons living with disabilities to enjoy travelling and holidaying experiences like anyone else.
It is not only about having in place infrastructures that are accessible to and usable by persons who are autistic or visually impaired or deaf or in a wheelchair but it is also about designing vacationing experiences that suit their needs as well as those of persons living without disabilities.
Just imagine if by chance, you injured your leg just few days before enjoying a trekking in the Himalayans.
Cancelling the booking is not the only option as now Nepal counts with the first ever accessible trekking in the country in Pokhara and soon more will come and more and more hotels are offering rooms that can suit your special needs.
Four Season Travel is pioneering this new market by creating networking and awareness creation opportunities for all those involved in the travel industry.
Partnerships play a big role to create a model and an eco-system where more hotels, resorts, representatives of the transportation industry and other travel operators embrace disabilities as a true opportunity, working in tandem to make Nepal a top accessible and inclusive travel destination.
This week Four Season Travel partnered with Nepal Medicity Hospital to host an event that had, as key note speaker, Jezza Williams, entrepreneur, advocate and founder of Making Trax, an adventure travelling company based in New Zealand.
While Nepal Medicity Hospital is certainly not focused on the tourism business, there is no doubt that it plays an important role especially when we talk about adventure tourism, including high altitude mountain climbing.
As we learned from Dr. Sanjaya Karki, HoD, Department of Emergency Medical Services, in high altitude emergency rescuing operations as well as in road accidents, only prompt interventions make the difference between life and death.
Unfortunately too many people die prematurely because of lack of services or lack of professionalism in Pre Hospital Care also known as immediate care, or emergency medical services medicine.
The fact that Nepal is starting having top class infrastructures in this area could certainly benefit the citizens of the country as well as those tourists coming here to experience amazing outdoor adventures.
One of them is Jezza, a professional white water rafting instructor with decades of experiences from all over the world who also is a paragliding pilot.
On his first visit to the country, Jezza is enthusiastic about the potential of Nepal to become a top destination for accessible and tourism and adventures.
His company Making TRAX is working with over forty operators in New Zealand, not only advising them on adventures holidays but also designing new exciting experiences for able bodied as well as persons living with disabilities.
Jezza and his team works with scenic flights companies, skydiving, paragliding and rafting companies, helping creating a level playing field in the field of adventures tourism.
After an accident that made him tetraplegic, Jezza uses outdoor adventures to bring together persons with and without disabilities, offering them incredible experiences.
Speaking with great passion, determination and commitment, Jezza's love for adventure and traveling is truly contagious.
For example, his grit led him partnering with a paragliding company to design, entirely from scratch, equipment that allowed him to solo paragliding.
For Jezza, organizing adventures is as important as advocating and creating awareness.
For this reason he created the Trax Seal of Approval, now a true benchmark of adaptive adventure travel & inclusive tourism in New Zealand.
The seal is visual statement that ensures that a company works and promotes inclusive tourism, creating a true national network.
By enabling more people to share his love for outdoor adventures, Jezza is a true pioneer, creating a movement of passionate adventurers and advocates.
Surely the Nepal 2020 Tourism Campaign should also focus on tourists, national and international, living with disabilities.
They can enrich the country's tourism landscape, creating a wealth of new business opportunities. Only partnerships can make this happen.
Galimberti is the Co-Founder of ENGAGE, an NGO partnering with youths living with disabilities. He can be reached at simone_engage@yahoo.com