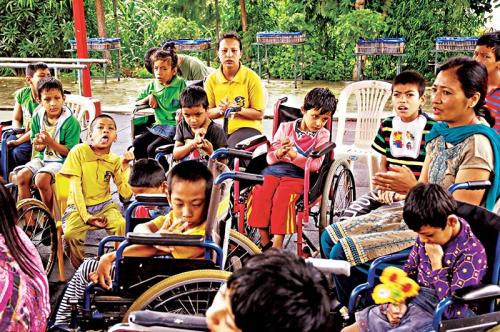 Link 1 https://thehimalayantimes.com/lifestyle/to-special-teachers-with-love/
July 09, 2017
Understanding the children
The teachers at the Self Help Group for Cerebral Palsy/Nepal, Dhapakhel were teaching music and helping children understand the falling rain with the lyrics Tappa Tappa Pani Jharyo on July 5 afternoon. The students were singing and watching the rain fall with the teachers. The children in the centre have cerebral palsy.
"Cerebral palsy is the name given to a group of conditions that affects the child's movement. It happens when there is a problem in the brain. The problem can occur before, during or after the birth of the child," says Shova Pradhan, Programme In-charge of Special Education Programme at the centre.
"There are jerky, fidgety, random and uncontrolled movements in children suffering from cerebral palsy. We need to give extra care to these children as they can't even sit properly. They need physiotherapists too and we provide that facility too," says Pradhan.
Some children are unable to speak and express themselves. In such cases "we need to understand the eye contacts and body language. The children in the classrooms help us understand one another," informs Pradhan.
And to help them in their life, the teachers here are imparting the children with life skills such as "toilet training and etiquette, dressing, undressing, feeding, et cetera. With improvements made, we move on to academics," Pradhan shares.
Those who are good with their hands are taught to make cards or weave carpets so that it helps them later in life when they grow up.
Dedication and effort
Then there are teachers helping children with autism — a developmental disorder. There are difficulties in communicative skills both verbal and non-verbal, social skills and repetitive and restricted behaviours in autistic children. Every child and his/her behaviour is different. "Therefore we need to be dedicated to each child. We teach them the basic skills like eating, dressing, washing hands and feet as they need assistance in all such activities," shares Sijan Shakya, Educational Co-ordinator, Special Educator, Autism Care Nepal, Gairidhara.
"Teaching these children is very difficult as they do not understand what they are learning or why they need to understand. As such it needs a lot of dedication and effort. We teach them through pictures and visuals. At the centre's Aarambha Pre-Primary School, we are providing them speech, occupation and music therapy," Shakya adds.
Raghab Dawadi, Headmaster at Khagendra New Life Special Education Secondary School, Jorpati, who himself is physically challenged, has been teaching students for a long time. There are many children with physical disabilities in the institution.
Teaching needs a lot of dedication and Dawadi believes that one needs to be more dedicated and be well prepared if one is to teach such special students. "If we teach wrong, it will have a negative impact on the children," he shares.
Purna Devi Kansakar, 59, has dedicated her life to teaching visually-challenged students at the Laboratory Higher Secondary School, Kirtipur. "It feels good to help children learn the basics of reading."
She helps students learn the alphabets in her classes and helps them to read and write. Her mantra for her dedication: "We shouldn't get irritated when we teach."
Lessons learnt
The students aren't the only ones who are learning, but the teachers are also learning from these children.
After over 20 years of teaching, Pradhan has learnt to be patient from the children. "Keeping patience is what I have learnt from them. I have learnt that every individual is different," she adds.
Shakya would never have been able to know her skills and abilities to work in the field of autism had she not been involved in the centre. A mother of an autistic child, she feels she would never have realised the skills and capabilities to work in this area. Working with the children she has learnt to take breaks in her life so that she gets some time for herself and get back to work with more energy and dedication. She has also learnt that "if we try, we can achieve".
"When I see the dedication and effort of the children who are physically challenged, I am moved," says Dawadi. "All such students help me build my confidence. I have learnt that we shouldn't move away despite all the odds."
Challenges
There are challenges everywhere and one must be ready to accept and face them. Similar is the case with these teachers. "As we are the ones who help children shape their future, we need to be careful. If we teach something wrong it will leave a negative impression in the children. Preparedness and psychological understanding of the children is very important," says Dawadi.
The unavailability of sufficient reading materials is a challenge for Kansakar. "Evaluating the children is challenging. If there is a wrong evaluation, it will have a wrong impact on the child. Therefore, teamwork is necessary in the field," Dawadi shares.