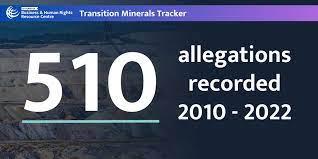 Key findings
The Tracker has identified a total of 

510 allegations

 of human rights abuse from 2010 to 2022, including 

65 new allegations for 2022.

Human Rights Defenders continue to pay a high price. Over one-quarter

 (133) of allegations represent 

attacks against them, including 13 attacks in 2022.

Water intensity of mining operations increasingly threatens communities: over one-quarter (

133) of allegations are related to either 

water pollution, water access issues, or both

.

Corruption cases related to transition minerals are growing

 with 10 new allegations recorded in 2022 in the governance category.

Indigenous Peoples are affected by transition minerals mining operations.

 49 allegations are related to abuses against them.

Mining workers are also at risk

. Five worker-related deaths were recorded in 2022.

Mining operations have multiple real-world consequences.

 82% (418) are associated with at least two types of impacts.

The right of local communities to live in a healthy environment is jeopardised by the rush to mine for more transition minerals.

 One fifth of all allegations (111) relate to impacts on the environment and on people who live there.

Over two-thirds of all recorded allegations include

 

just 14 companies

, which are among the largest and most well-established of the extractive sector. This includes ChinaMinmetals, Glencore, Grupo México, Codelco, Freeport McMoran and Solway.
Mutuso Dhliwayo, Zimbabwe Environmental Law Association Executive Director

"Communities in resource-rich countries who have already borne the cost of decades of irresponsible mineral extraction, are at real risk of paying again as the world pursues a rapid transition to renewable energy, dependent on these resources to power clean energy installations and batteries across the world. But as the Tracker demonstrates, they are also increasingly saying 'no' to an irresponsible transition, through protest and the courts to protect their rights. A human rights-focused transition, that centres Indigenous peoples, local communities and vulnerable workers, is the only way to ensure a global energy shift that is fair, so that it can also be fast."
Responding to the climate emergency is a human rights imperative. With impacts of the global climate crisis multiplying quickly, particularly for Indigenous and other marginalised communities, it is crucial the energy transition does not come at their expense. Mining remains the most dangerous sector for human rights defenders in our 2022 global analysis of attacks.
Respect for human rights, recognition of hosting communities as equal partners and commitment by the Global North to curb demand for transition minerals should be reflected in policymaking, investment decisions and operational approaches.
This 2022 update highlights the urgent need for all actors to centre the just energy transition on three core principles:
Shared prosperity

 that builds worker and community rights in operations and supply chains
Robust 

human rights due diligence

 and worker, community, and defender rights protections

Fair negotiation

 between business, workers and communities, centring the principle of Free, Prior and Informed Consent.