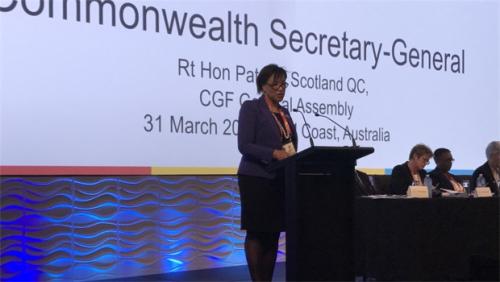 Link 1 http://thecommonwealth.org/media/news/uncompromising-commonwealth-commit...
Commonwealth Secretary-General Patricia Scotland has said effective partnerships between sport and government will help to realise sport as a 'tool for development'.
She was speaking at the Commonwealth Games Federation (CGF) General Assembly on the Gold Coast in Australia.
"The vision of the Commonwealth Sports Movement of making a positive impact for all Commonwealth citizens through sport, aligns with our Commonwealth Secretariat Strategic Plan goal that 'Sport contributes to sustainable development, health and building peaceful and just societies'," said the Secretary General.
"This alignment offers great potential for the Commonwealth Secretariat and CGF to work in partnership to ensure the great potential of sport as a tool for development is realised throughout the Commonwealth and more widely.
"We will deliver such impact only if we remain constant and uncompromising in our commitment to ensuring that sport is well governed, and that the integrity of sport and human rights, in the context of sport, are promoted and protected."
Secretary-General Scotland said these were 'non-negotiable prerequisites' to ensuring that sport proved to be a positive force and fulfilled the aims enshrined in the Commonwealth Charter.
The issues of integrity and governance will be discussed in the 9th Commonwealth Sports Ministers Meeting on Tuesday. The theme of that meeting is 'Strengthening policy coherence to maximise the benefits of investing in sport'.
The Secretary-General said, "This will carry forward and build in new ways on the commitment made two years ago in Rio de Janeiro, at the previous Commonwealth Sports Ministers Meeting, to align future sports policy and plans with the 2030 Agenda for Sustainable Development.
"The Sustainable Development Goals provide an internationally agreed road map for global action to end poverty, promote inclusive development and leave no-one behind. So, the objective for the 2018 Commonwealth Sports Ministers Meeting on Tuesday is to agree joined-up strategies for collective action to implement 'coherent' policy combining investment in the positive benefits of sport with support for good governance, integrity, and embedding a rights based approach in sport.
"Integral to getting this balance right is effective, coherent and joined-up work between our sports movement and governments in collaboration with the private sector and civil society."
Secretary-General told the meeting that these topics will also be among those considered in April's Commonwealth Heads of Government Meeting (CHOGM). "The synergy and mutually reinforcing nature of the messaging and ambition of the CGF, of Gold Coast 2018, and of the Commonwealth Heads of Government Meeting is very clear. We work, in the words of the 2018 CHOGM theme, 'Towards a common future'."
Sport, said Secretary-General Scotland, spoke with potency to the 60 per cent of the 2.4 billion Commonwealth citizens who were under 30 and its power to influence the youth. This was reinforced by the focus on integrity and inclusiveness at Gold Coast 2018, and she was confident that it would be carried on in the 2022 Birmingham Games.