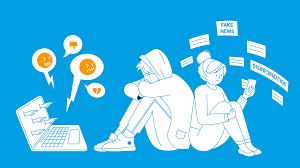 Three specialists were brought together to discuss, with middle and high school students from five international schools, the fabrication of false information and its repercussions in society during our latest UNESCO Campus.
Divina Frau-Meigs, Professor at Sorbonne Nouvelle University, media sociologist and holder of the UNESCO Savoir Devenir Chair; Khalid Aoutail, digital freedom of expression expert, and Aroua Biri, engineer and doctor of cybersecurity, entrepreneur against cyberbullying, had the opportunity to dialogue with students from Lycée Bilingue De Yom III in Bandjoun (Cameroon), Collèges de France in Antananarivo (Madagascar), Lycée Jules Verne in Johannesburg (South Africa), Crawford International School in Nairobi (Kenya), and Collège Bilingue in Dakar (Senegal).
"Today, quality is less important than the popularity of information," says Divina Frau-Meigs, which results in repercussions for the quality of the media's work and for public trust. When the integrity of information is affected, the threats also affect the political world.
Widespread doubt is unhealthy in a democracy.
In response to the students' questions on how to fight against false information, or at least recognize it, she shared several indicators: "if a piece of information plays on my emotions, I must resist it so as not to fall into the trap of amplifying it".
On a daily basis, Divina Frau-Meigs reminded participants of the need to diversify their sources of information: "if I read a media source with which I do not agree, I will inevitably ask myself questions and go and check it out". Given the diversity of countries and cultures taking part in this Campus, the sociologist stressed the importance of referring to the work of fact-checking associations specific to their regions: Africa Check, the first independent fact checking site in Africa; 237 Check in Cameroon; PesaCheck to check the announcements of public figures in the main African languages...
Information in danger
In this context of global mistrust, the work of journalists is at stake. Khalid Aoutail underlined that in an ideal world, information would circulate, be debated and never be restricted, whereas today "a journalist who wants to verify information puts himself in danger". Indeed, depending on the extent of the information communicated, threats can be severe: intimidation, cyber threats, harassment, legal complaints, closure of media companies, crimes against journalists... Each year, UNESCO publishes the Journalists' Safety Index listing these risks.
Beyond the media sphere, students know that false information can escalate and give way to cyber harassment. To answer the questions of the young participants, Aroua Biri reminded them of the importance of speaking up when they are victims or witnesses of harassment: first of all, to school officials or parents. To protect oneself from these situations, "one must block the harasser and their pack, which amplifies their words; take screenshots to have evidence if the case goes to court". Aroura Biri even brings up the tough idea of staying away from social networks and not looking at them.
Unfortunately, this is the most complicated piece of advice, because today, that would be considered the ultimate exclusion.
Finally, despite the diversity of countries gathered at this session, she recalled the need to initiate legal action, even if the legislation of many countries do not explicitly mention cyberbullying, it remains a form of violence that must be punished.
This event was held thanks to the support of the Klorane Botanical Foundation and 6C Conseil.
SHARE