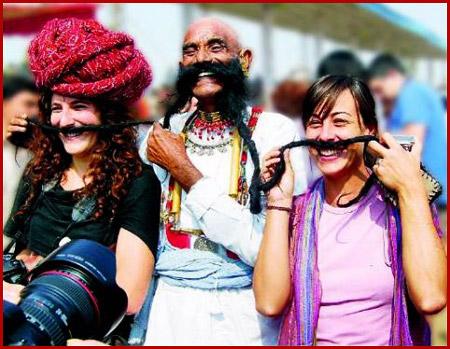 The Pushkar Fair or Pushkar mela commences on Prabodhini Ekadashi and continues till Kartik Poornima, the latter being the most important. This fair is held in honour of god Brahma, whose temple stands at Pushkar. A ritual bath on Kartik Poornima in the Pushkar Lake is considered to lead one to salvation. It is believed circling the three Pushkars on Kartik Poornima is highly meritorious. Sadhus gather here and stay from ekadashi to full moon day in caves. About 200,000 people and 25,000 camels assemble in Pushkar for the fair. Pushkar fair is Asia's largest camel fair.
Attractions of Pushkar Fair:
Camel trading, folk performances, body tattooing, ethnic shopping, puppet shows, acrobatics, best breed contest, moustache competition, bridal competition etc.