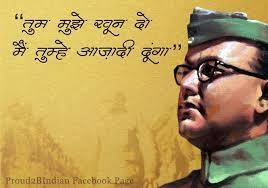 about Netaji Subhash Chandra Bose, his contribution in the history of freedom struggle, his contribution in Freedom moment of India and Indian Independence. subhas chandra bose had founded travel to many countries to get the support for Azad Hind Fauj to overthrow British Empire from India.
After passing Indian Civil Services Exam, Netaji Subhash Chandra Bose elected Congress President in 1938 and 1939, formed a new party All India Forward block, organized Azad Hind Fauj to overthrow British Empire from India. 
Though Mahatma Gandhi and Jawaharlal Nehru have garnered much of the credit for successful culmination of Indian freedom struggle, the contribution of Subash Chandra Bose is no less.
He has been denied his rightful place in the annals of Indian history. He founded Indian National Army (Azad Hind Fauj) to overthrow British Empire from India and came to acquire legendary status among Indian masses.
Subhash Chandra Bose was born on January 23, 1897 in Cuttack, Orissa. SubhashChandra Bose was deeply disturbed by the Jallianwalla Bagh massacre, and left his Civil Services apprenticeship midway to return to India in 1921. His most famous quote is: Give me blood and I shall give you freedom! In Hindi: तुम  मुझे  खून  दो  मैं  तुम्हे  आज़ादी  दूंगा !