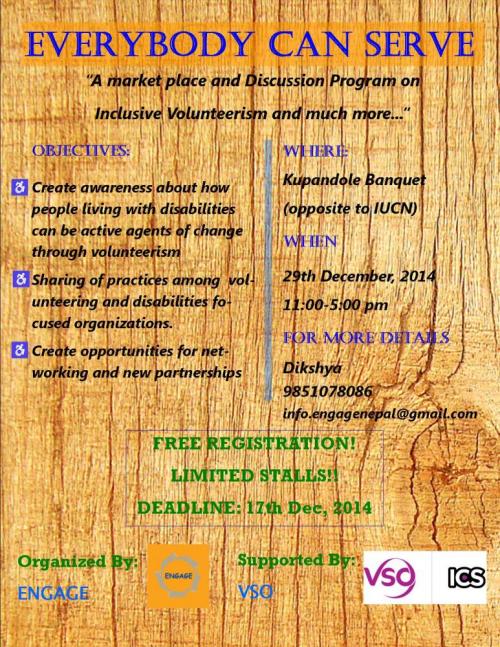 "Everybody Can Serve"
                    "Celebrating the Power of Inclusive Volunteering"
                         29th of December 2014 from 11.00 am to 5pm
ENGAGE, the national NGO promoting inclusive volunteerism, in partnership with and with the support of VSO through the International Citizenship Service, ICS a program funded by DFID to promote a new awareness on global and developmental issues among youth, is organizing "Everybody can Serve", a partnership/networking fostering event to promote a more inclusive society through volunteerism. The event will have a market place, a partnership/collaboration corner and discussion/debate component.
Venue:  Kupandole Banquet (opposite to IUCN, International Union for Conservation of Nature and Natural Resources, 5 minutes walk from main Kupandole road)
Objectives
·         Create awareness about how people living  with disabilities can be active agents of change through volunteerism
·         Sharing of practices among volunteering and disabilities focused organizations
·         Create opportunities for networking and new partnerships
The Approach
Volunteerism can be seen as a transformative platform that can offer persons living with disabilities empowerment opportunities to reclaim their due role in society. Volunteerism proves that persons living with disabilities can also be active citizenship, shifting the traditional stereotype "paradigm" that sees them only as "passive" recipients of aid and social work.
Target Groups
·         Organizations ( national or international) including corporates  working/involved in the disability sector
·         Organizations (national and international) including the corporate sector working/involved generally in the volunteering sector (not necessarily related to disabilities).
Components
·         Part I: Market Place and Partnership/Collaboration Corner
·         Part II: Reflection/Discussion
Part I: Market Place
This will bring  together Disabled People's Organizations (DPOs), organizations promoting and working in the field of volunteerism, including international aid agencies who have deployed international volunteers in Nepal, and youth organizations. The marketplace will help to build relationship/partnerships among Nepali citizens, involving citizens with disabilities into mainstream "development".
Stalls: each organization will have a table and two chairs.
Partnership/Collaboration Corner
This is a special space for organizations with a special/urgent need or a very brilliant idea that they want to "market" or advertise. Therefore organizations looking for partners or volunteers will be provided with a special space where they might be able to meet potential partners/collaborators.
Part II: Reflection/Discussion
We will have special guests all practitioners and experts from the field of disabilities. They will bring their experiences, offering their points of view how volunteerism can contribute to make society more inclusive.
How to participate:
You need to apply only to have a stall. The "First booked First served" approach will be used.  deadline to apply for stalls is 17th of December.
Write to us to get the application: simone_engage@yahoo.com with info.engagenepal@gmail.com in cc.
About the speakers/testimonials:
Shudarson Subedi: A leading the international disability community, Ashoka Fellows and current President the National Federation Disabled Nepal (NFDN). He is also Chair person of Disabled Peoples International South Asia and Vice Chair person of Asia Pacific region.
Sagar Prasai: Sagar is an activist, journalist and strong promoter of a more equal and inclusive society in Nepal. He recently set up Sangai Hami and before that he was selected for a US Department of State funded fellowship called "Community Solutions Program"
Sushil Adhikari: A computer instructor, sound-editor, positive-thinker, disability-rights-promoter and social worker that become blind at age 11. Currently he works for an NGO, "Forward-Looking". Together with his brother, who is also blind, founded a self-help social organization called "Bright Star Society" aimed at helping to those who are living with disabilities to access the health-care services.
Birendra Pokharel: Birendra is the Past President of National Federation Disabled Nepal and an internationally recognized activist. More recently he has been engaged as Facilitator for Abilis.
Shiva Raj Chapagain (to be confirmed): He is the Director of NDVS, the national volunteering program managed by the National Planning Commission. Since his appointment as Director at NDVS in 2012, Mr. Chaulagain worked incessantly to strengthen and re-launch NDVS.
For info call Dikshya at 9851078086 or write to info.engagenepal@gmail.com