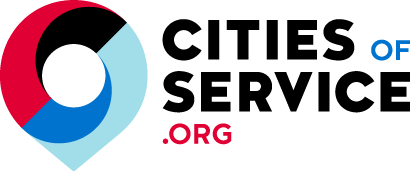 Cities of Service is an amazing platform to harness the power of volunteerism/service within towns, small and big of United States. The Alliance is a brainchild of Michael Bloomberg, former Mayor of New York that used his own private health to compliment the efforts of the city of New York in leveraging the power of service.
He was instrumental in creating a national movement bringing together the most famous American cities with the smallest ones. Volunteerism teaches that the size does not matter but rather the fact that small and big cities can be brought together to discuss and share about volunteerism and service
Through the Alliance each member prepares a city volunteering strategy that basically it is a way to embed volunteerism and service within the city's strategic framework. Which are the priorities that the local administration must address where volunteerism can make the difference and complement its own efforts?
Here it is all about citizen/community and local administration partnerships. Surely corporate sector can have a big role too.
Each member receives grants support donated by The Bloomberg Philanthropies, the charity set up by the ex-Mayor of New York for mainstreaming service and volunteerism in their town planning. The members are guided and support to develop their own strategies. Incredibly a big town like New York could also learn so much from a small member like Chula Vista, California.
This is very essential: volunteerism should not be seen as "add on" but rather as a core concept of good governance that can make the difference and help local administrators achieving their goals by involving and engaging their communities.
Recently the city of Nashville won a national blue print contest about "blueprints – comprehensive, customizable, high-impact strategies that outline the necessary steps to bring a service initiative to life and ensure its success".
Nashiville presented the Storm Busters model that mobilizes its citizens to cope with natural disasters and emergencies. Through the model, Nashiville shows "a high-impact service strategy in which the mayor's office engages volunteers to help mitigate damage from storm water runoff and improve the health of the city's surrounding waterways by planting trees and rain gardens, cleaning waterways, and restoring river and stream banks".
Albuquerque, Orlando and Philadelphia got rewarded for their innovative ideas covering after schools, tutoring and recycling initiatives.
The great thing about the Alliance and the foresightedness provided by Michael Bloomberg is that the initiative is being expended also to Europe and some cities in UK have already joined it.
Definitively we are talking about an innovation, no doubt about it but it is a great example of how to mobilize private money in synergies with public sector.
All programs in Nepal working on good governance should take example from the Alliance and try to embed into their plans local, sustainable forms of volunteerism that Nepal is so rich of.
Hopefully one day development partners will learn from Micheal Bloomberg...
http://citiesofservice.org/content/nashville-wins-national-cities-service-contest-plan-preserve-waterways-and-mitigate-storm