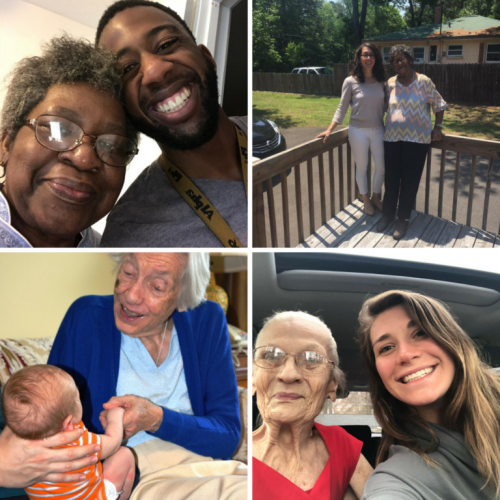 Ms. Combs (name changed) is a sprightly woman in her late 70's. She is very friendly, smiles a lot and knows what she wants.  She doesn't have family in North Carolina (USA) and has needed help with a number of items including shopping, going to church and storing her personal possessions as she is making a temporary move to her daughter's home to spend time with her granddaughter. 
I met Ms. Combs a few weeks ago through a A Helping Hand, an NGO that is a "companion care provider committed to assisting seniors and individuals with disabilities maintain self-sufficiency, quality of life, and the highest level of independence."   In order to get ready for my three-hour volunteer assignment the Volunteer Coordinator emailed me some information.  Ms. Combs lives in an apartment and when she needed help called A Helping Hand.
I loaded up my car with Ms. Combs boxes which she wanted to put in her storage space a few miles from her apartment. I neatly stacked Ms. Combs boxes in the storage space and then we went shopping at Wal*Mart.  Ms. Combs walks with a cane and at Wal*Mart she put herself into a motorized wheelchair shopping cart and loaded up her groceries.  I put everything into my car and then we proceeded to her home where we picked up her mail.  After putting away her groceries I took Ms. Combs to a restaurant where she was meeting a friend.  I will be going back to help Ms. Combs over another three-hour volunteer assignment.
"For nearly 20 years, A Helping Hand has been providing superior care for older adults. Cathy Ahrendsen founded a Helping Hand in 1995 in response to an unmet community need for high caliber senior support services. Today, the agency remains committed to her vision of helping senior citizens and individuals with disabilities safely "age in place" while maintaining the highest level of independence."
A Helping Hand counts on numerous volunteers of all ages to help the population being served.  As we age our friends and relatives start to pass on.  Many seniors deal with loneliness and just want someone to talk to on a consistent basis.  Or like Ms. Combs don't have regular transportation to take them shopping, to a doctor's appointment, attend church or meet friends.  I'm learning that how we treat our elders, especially as they start heading towards the end of life, tells a lot about  society.
My sister and her husband recently came back from being abroad for five months and they will be living in California.  Although my parents maintain an active schedule, my sister and brother-in-law will help with cooking, cleaning and assisting my parents with living a good quality of life.  I've been living in the US for two years, given that I live approximately 4100 km away, this provides me with a great deal of comfort. 
When I lived in Nepal I found many elderly destitute.  The onus was on families to take care of them, but when families are poor and/or the government has little focus, the elderly don't get the services they deserve.  From reading their website Saar Nepal provides a Senior Citizens and Lifelong Learning Centre.  Help Age International advocates for the rights of seniors. In an article in the Himalayan Times from 9/18/17, Elderly Underfed, neglected at Pashupati old age home we know that there is more that can be done to help seniors have a decent quality of life. 
Developing a culture of volunteering and helping out those who are underserved is vital to a caring society.  Financial resources are important but how we individuals give of our time is more so. The NGO ENGAGE provides an example of youth volunteering as a focus.  The question becomes one of how to integrate volunteering in school curriculums at all levels so that elders, similar to A Helping Hand's mission become a focus and not a second thought.