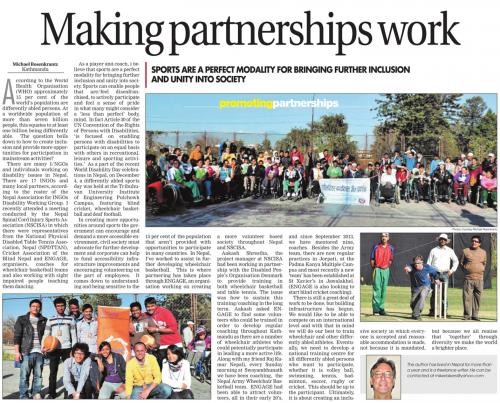 According to the World Health Organization (WH) approximately 15% of the world's population are  differently abled persons.  At a worldwide population of more than seven billion people, this equates to at least one billion being differently abled.  The question comes down to how to create inclusion and provide more opportunities for participation in mainstream activities?
There are many I/NGOs and individuals working on disability issues in Nepal, e.g. there are 17 INGOs and many local partners, according to the roster of the Nepal Association for INGOs Disability Working Group.  I recently attended a meeting conducted by the Nepal Spinal Cord Injury Sports Association (NSCISA) in which there were representatives from the National Physical Disabled Table Tennis Association, Nepal (NPDTTAN), Cricket Association of the Blind Nepal and Engage, organizers/coaches for wheelchair basketball teams and also working with site impaired people teaching them to dancing. 
As a player and coach, I believe that sports is a perfect modality for bringing further inclusion and unity into society. Sports can enable people that are/feel disenfranchised, to actively participate and feel a sense of pride in what many might consider as a "less than perfect" body/mind.  In fact Article 30 of the UN Convention of the Rights of Persons with Disabilities, "is focused on enabling persons with disabilities to participate on an equal basis with others in recreational, leisure and sporting activities".  As part of the recent World Disability Day celebrations in Nepal, on December 4, a differently abled sports day was held at the Tribuhuvan University Institute of Engineering Pul Chowk Campus, featuring blind cricket, wheelchair basketball and deaf football. 
In creating more opportunities around sports the government can encourage/demand a more accessible environment, civil society must advocate for further development and corporates can help to fund accessibility infrastructure improvements and encouraging volunteering on the part of employees.  It comes down to understanding and being sensitive to the 15% of the population that aren't provided with opportunities to participate in many countries.   
In Nepal, I've worked to assist in further developing wheelchair basketball.  This is where partnering has taken place through  ENGAGE, an organisation working on creating a more volunteer based society throughout Nepal and NSCISA.  Aakash Shrestha, a project manager at NSCISA had been working in partnership with the Disabled People's Organization Denmark to provide training in both wheelchair basketball and table tennis.  The issue was how to sustain this training/coaching in the long term.  Aakash asked ENGAGE to find some volunteers who could be trained in order to develop regular coaching throughout Kathmandu as there are a number of wheelchair athletes who could potentially participate in leading a more active life. 
Along with my friend Raj Kumar Nepali, every Sunday morning in Swayambhunath we have been coaching (volunteer),  the Nepal Army Wheelchair Basketball team.  ENGAGE had been able to attract volunteers, all in their early 20's, and since September 2013, we have mentored these six new, now nine, coaches.  Besides the Army team, there are now regular practices in Jorpati, at the Padma Kanya Multiple Campus and most recently a new "team" has been established at St. Xavier's in Jawalakhel.   (ENGAGE is also looking start blind cricket coaching). There is still a great deal of work to be done, but building the infrastructure has begun.  We would like to be able to compete on an international level and with that in mind we will do our best to train wheelchair and other different abled athletes. 
Eventually, we need to develop a national training center for all differently abled persons who wants to participate, whether that is volley ball, swimming, tennis, badminton, soccer, rugby, cricket, etc.  This should be up to the participant.  Ultimately it is about creating an inclusive society in which everyone is accepted and reasonable accommodation is made, not because it is mandated, but because we all realize that "together" through diversity we make the world a brighter place.