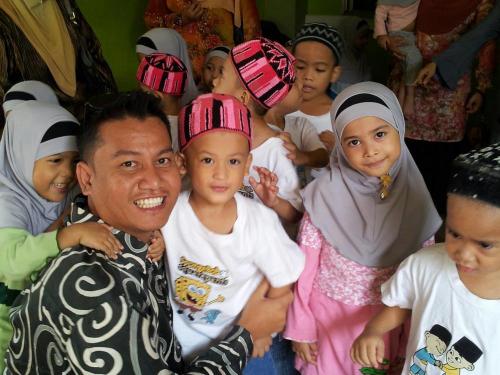 Can you tell me about how you developed your interest in clinical social work?
Working with clients who have mental illnesses requires passion because mental illness is not like other diseases that we can see the symptoms directly. I am interested to study social work and mental health whilst I was undergoing in-house training as a medical social worker at the Medical Centre of the National University of Malaysia (UKM) in Cheras, Kuala Lumpur in 2001 to 2003. Generally, most of the social workers at that time preferred popular clinical units that require direct practices, but not many social workers interest into mental health problems such as depression and schizophrenia. I chose a psychiatric unit as my clinical practice due to its uniqueness disease and the difficulty of treatment for the mentally ill patients and families. Seriously, I want to break the taboo about mental illness in my society when people said it cannot be treated. I wanted to work closely with other clinical professionals such as psychiatrists and mental health nurses to see what the reality of living with mental illness is in Malaysian society.
How is the current status of mental health in Malaysia and overall over the South Asia region?
Prevalence of mental illness in Malaysia is seen rising as other countries, especially in Southeast Asia. Malaysia has a population of 27 million people and shockingly, one of the 10 people was found to have mental problems. Nonetheless mental health services in Malaysia appear to have evolved and gained the attention of the government based on the increase in budget for mental health services. Based on the review of the National Health Morbidity Survey (2006) showed that 11.2% of Malaysian adults aged 16 years and older have mental problems. More than half of the mentally ill are women and almost 13% experienced by the City dweller compared to those who live in rural area. Ministry of Health Malaysia strives to do preventive measures to improve coping strategies and strengthening social supports as well as to adopt a healthy lifestyle for Malaysian citizen. Mental health promotion programs for all ages conducted involving all parties, whether the government sector, private sector and NGOs. One of the programs is a screening service for mental illness at all health clinics in the state and the region as a measure of early detection of mental problems. Various campaigns and support programs run by the Malaysian Mental Health Association (MMHA) and the Malaysian Psychiatric Association (MPA). All programs need awareness of the public. This is because most of the patients and families with mental illness receive many social stigmas. Mental health literacy among the Asian community is still low and often linking mental illness with superstitious beliefs like it caused by black magic or evil doers. Therefore, it was not surprise if many families who have family members with mental disorders receive treatment from the traditional healers before seeking medical treatment in mental health clinics. Mental illness still remains taboo for Southeast Asia countries such as Thailand, Malaysia, Indonesia, Philippines. This is a main challenge for mental health practitioners like medical social workers to deal with culturally bound diseases when referring to mental illness in the society.
How do you link applied research with policy making? Could you give us some ideas of your advocacy work with the Government of Malaysia in the field of mental health?
There are many studies done by local or international researchers to discover and measure various issues about mental illness particularly in Malaysia. However, to what extent of the finding of these studies used by policy makers to reduce and prevent mental illness? Based on my experience as a researcher as well as a medical social worker, I rather said we need to include policy questions in the beginning when doing research about mental health problems in the multi ethnic society like Malaysia.  I emphasize we need a multidisciplinary teamwork with all mental health professionals to reduce societal and economic issues in conducting mental health research. We need to use bio-psychosocial approach in dealing with mental health problems faced by patients and their families. It still fresh in my mind, when I conducted the 3 years PhD research about the experience of family caregiving to a person with schizophrenia in northern states of Peninsular Malaysia.I did compare mental health care provided in urban and rural area. Both clinics were provided mental health services to schizophrenic patients and their families. When I first started building the context of both health clinics, many clinical staffs did not understand is medical social work all about and how it can help in the rehabilitation of mental patients. Really, this is my challenge to explain about the role of medical social workers in the community clinics. I remembered there are several times the health department at the state level demanded a meeting to explain about my research and expected outcomes of the study. I am truly grateful to receive positive responds from all psychiatrists and nurses involved in mental health services in setting the role of medical social workers in the community clinics. Starting from there too, I started lobbying to all district health clinicsto have a Medical Social Worker positions to assist in the mental health care services. It turns out that my efforts have yielded in the 4 years later when in 2010, the Ministry of Health Malaysia has established a medical social worker posts in all district health clinics that the post were previously found only in general hospitals in each states. I believed that policy makers will understand the needs of the vulnerable groups if we posed policy questions in our research and tried in all means to advocate what a client's want rather than what a researcher's want.
Is there any cooperative framework in the field of clinical social work related to mental health in Asia Pacific Region?
In addition, a network of mental health is important because it is a platform for all mental health practitioners to exchange ideas, share their experiences and resources to support the mental health services especially for developing countries. So far, there are few established network of mental health in the region such as the International Mental Health CollaboratingNetwork (IMHCN) and the National Alliance of Mental Health (NAMI) which are actively networking in every part of the world. Almost every year these groups have held a range of conferences and meetings for strengthening mental health services, for example in May 2014, the IMHCN work with the Johor Mental Health Association in Malaysia organized the 16th Johor Mental Health Convention & International Mental Health Collaborating Network with the theme "From Hospital to Hospitality". I was honoured to become one of the keynote speakers to talk on the issue of the mental health and urbanization. Normally, we cannot run away from problems inherent pressure in our daily environment especially to the urban poor. I see this issue in the context of "working poverty" because the cost of living is increasing but our income is remain low have impacts onour mental health internally and externally. Because there are social problems, there will be social workers to work with individual, family and community in professional manner so that all needs are fulfilled. By having the cooperative network like IMHCN and NAMI, all necessary resources can be shared and optimally utilised.
How could volunteering action be harnessed in the sector of mental health?
That's why the mental health services provided by the government alone are not sufficient and requires the full involvement of all parties, especially the volunteers. I am confident that through volunteerism, we can solve many of the problems of mental health down to the grassroots. This is because most of the volunteers have first-hand access to mental patients or individuals at risk of developing this disease. For example, in Malaysia there are a group of volunteers known as the Befrienders which provide tele-counselling services to all individuals who need support to talk and express their feelings associated with their mental problems. There are many other support groups established among caregivers of mentally ill patients such as Kinta Association for Mental Health (KAMI). KAMIis a support group for patients and families with mental health problems using a music therapy approach through Chinese's drum. Many volunteer groups that exist in the community received strong supports and assistances from the government and international NGOs. I believed that volunteering action can be harness in the sector of mental health even other social problems as well. For me, volunteers are agents of social change and it plays peculiar role in the society especially to bridge between government policy and services to all clients as well as to reduce the social gap that may exist.
Can you tell us something about the Department of Psychology and Human Development at UKM?
Now I am working as a senior lecturer in the School of Psychology and Human Development, Faculty of Social Sciences and Humanities, the National University of Malaysia (UKM). This school pledge to be the most advanced centre in the discipline of psychology, social work and human development to realise the UKM's vision as "guardian of the nation". This school has obligations to the global community by solving their social problems and spearhead the country's transformation programme as aspire by the UKM's vice chancellor. Almost every day, new social issues reported in the newspaper or social media such as homeless, mental health, drug addictions, unmarried mothers, child abuse and other sort of problems make this school to be relevant, referred and respected in the field of psychology, social work and human development.
Which are the current research priorities within the department?
Various studies on human behaviour and the social environment have been carried out at the School of Psychology and Human Development. Emphasis is given to the study of personality, mental health, drug abuse, elderly care, child abuse and child protection which have been seen as demanding social intervention from multidisciplinary approach in helping profession.
You have been carrying out a literacy program in a remote area of Sabah. Could you explain us a bit about this?
Currently, I am conducting research on title "equality in education" which aims to empower the marginalized groups known as "Orang Sungai" or riverine community.Education is the most effective approach to empower a community of extreme poverty. The Orang Sungai community living in Lingkabau District, Sub-District of Paitan in Sabah have been marginalized from mainstream development due to remote geographical locations. Literacy level is low, where the number of children who drop out and illiteracy is very critical. This means that they still have not come to education facilities and most likely not be able to learn even read or write. Thus, immediate intervention should be given through the concept of "Advocacy Literacy".  There are four objectives of this study: 1) Build a profile of community education through asset mapping of the resources in the community, 2) Developing Literacy Advocacy Module for minority communities and 3) Implement educational intervention through Literacy Advocacy Module.This study is an Action-Based Community Development (ABCD) research design.
Children of Orang Sungai Community in Kg. Abuan, Paitan District, Sabah
Paitan River inPaitan District, Sabah
4x4 Wheel Drive to reach the Orang Sungai Community in Kg. Abuan, Sabah
Children of the Orang Sungai in their house in Kg. Abuan, Sabah
Housing in Kg. Abuan, Sabah