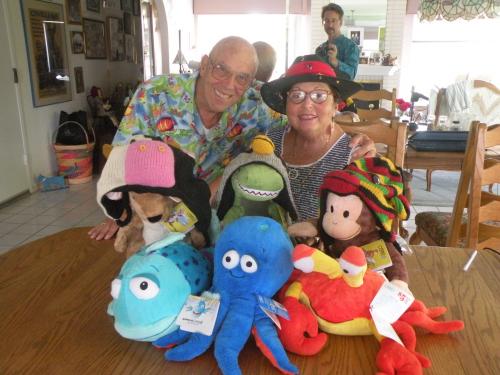 Sixty years is a long time by any stretch.  Living together  from being in one's early 20's to early 80's (only 1% of the worldwide population is 80 and older) is in some sense quite remarkable.        During the past 60 years    numerous countries were born or received their independence.  The  world has changed dramatically from climate change, environmental degradation, the rise of China and India, "terrorist attacks",  hippies and free love,  rock n roll, a  world-wide population growth from 2.7 to 7.1 billion.   The population of the US has doubled and there have been 11 US Presidents since 1953, i.e. Eisenhower, Kennedy, Johnson, Nixon,  Ford, Carter, Regan, Bush, Clinton, Bush, Obama. 
On November 26, 1953 my parents Norm and Sylvia, aka Simone, were married. Sixty years ago they were 24 and 20.  They've spent a lifetime together, had three children, three homes, lots of cars and "graduated" to a retirement community.  They've been through good times and not so good times.  They've seen their children get older and married, one divorced and one died at 25 and have watched as two grandchildren grew into their 20's.  They've had numerous jobs, even a business, and many friends.  They've seen their bodies deteriorate, have had operations, with the need to take more pills to keep themselves going.  They've watched their parents and siblings die, but have also seen their nieces and nephews get married with a much larger younger generation and many bar/bat mitzvahs.   
My parents have had their share of arguments  , but these quickly faded away as they knew that they couldn't live without one another.  They are not even in agreement regarding what to do with their earthly bodies once they are no more. 
I'm not aware of many couples that have lived more than 75% of their lives together, shared more than 65,000 meals and the general ups and downs that come from living.  But none of this is really about numbers, it's more about having found  a person to share one's life, no matter the obstacles.
My parents, as they have aged, have become more dependent on one another for both emotional, as well as, physical support.  My mom, because her body has deteriorated more rapidly seems to be much more dependent on dad to help here with her physical needs.  My dad, on the other hand, continues to get a lot of his emotional support from my mom. 
It is a perfectly formed eco-system of love, keeping one another going no matter what the odds. My parent's marriage has been about taking what happened to each other in their  youth and trying to work out the "kinks" through all of the yelling and loving that occurs during 60 years.   It does come down to being able to know what the other thinks and feels.  They do know this, but they also continue to push one another's buttons. 
Whenever I visit my parent's home or we talk on Skype, I can see their life, what they have built together, but also who they are as individuals.  As people age one can see the "walls" coming down and the true essence of a person's life, as the personality quirks keeping one glued to the earth, begin to melt away. 
I love my parents and I know that my sisters Robyn Deanne, even though she is no longer with us, also love my parents.  We've all come to appreciate them, their idiosyncrasies, their being.  They've shown me and many others how 60 years of living, loving, laughing and arguing can work and succeed during a lifetime and possibly longer. 
Letter from my dad to my mom on their 60th anniversary
November 26th 2013
Dearest Simone:
Let us count the waves in the ocean…that seems to be how our time on earth elapses. We will never know how many waves have elapsed during our lifetime. Sixty years, six decades have gone by in our lives together and our marriage has lasted since November 26th, 1953. Our children are so proud of us and so am I. We have done so many marvelous things together….creating three wonderful children, Mike, Dede and Robyn. A family that is so loving, intelligent and thoughtful. My heart is overflowing with happiness and joy. My dad Louie used the term many times of together, together, together. The term that fits our family is togetherness.
I am still in love with you and will take care of you until the end of our lives. Fear not as I am with you and will always be at your side. Let us be calm to one another and show respect for one another.
YOUR SWEETHEART AND LOVER
()()()()()..XXXXXXXXXXXXXXXXXXXX
Normie, Norm, Norman, Normando, Neal, Norsim