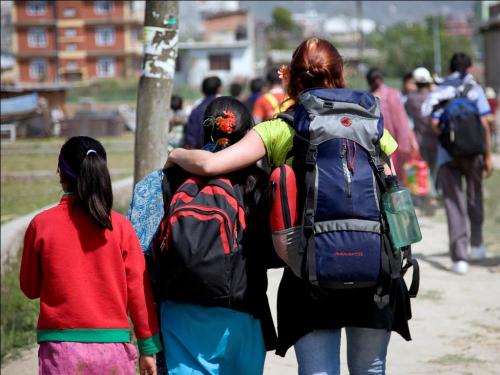 Next Generation Nepal is running a series of talks and discussions, by child rights activists and ethical tourism experts, on ethical tourism and volunteering in Nepal.  They are being held most Wednesdays at 5pm in Paddy Foley's Irish Pub and Restaurant, opposite Kathmandu Guest House, Thamel.  Starting at 5:00pm and running until 6:30pm.  They are FREE!!!  Please join us!!!
Why are there so many orphanages in Nepal?  How does child trafficking work?  How do you know if volunteering is helping or hindering children?  What is ethical tourism?  What does "doing good" really mean?  For deeper insight, Next Generation Nepal invites you to…
Wisdom Wednesdays
Cost: Free!
Location: Paddy Foleys Irish Pub and Restaurant, 1st floor, opposite Kathmandu Guest House, Thamel, Kathmandu.
Time: 5:00pm to 6:30pm
5:00pm, Wednesday 28th October: Martin Punaks of Next Generation Nepal will tell the story of two foreign volunteers who stumbled across an illegal child trafficking ring run through Nepali orphanages, and how they tried to stop it.  Learn about how "orphanage trafficking" works in Nepal and how you can play a part in fighting it.
5:00pm, Wednesday 4th November: Susan Dunathan, the Vice Consul of the Embassy of the United States, will talk about her experiences of supporting American tourists in Nepal.  Learn about how tourist experiences have gone well, or not so well, and discover how you can make your experience safe and rewarding.
5:00pm, Wednesday 11th November: Claire Bennett of Learning Service will tell some stories of volunteer projects where everything that could have gone wrong, did go wrong!  Drawing on experiences from Nepal, she will offer expert advice for ensuring that your volunteering project is a force for good (and not a cause for harm).
5:00pm, Wednesday 25th November: The Umbrella Foundation once boasted it would run the highest number of children's homes in Nepal.  Now its Country Director, Caroline Scheffer, is trying to close them all down and take the children back home. Hear the inspiring story of an NGO that changed everything it once stood for.
5:00pm, Wednesday 2nd December: Anju Pun of Forget Me Not will tell the incredible story of how a group of well-meaning Australian charity workers were deceived by traffickers into supporting a "fake" orphanage.  Learn about how Forget Me Not rescued the children, found their families, and took them home again. 
For more information see: https://www.facebook.com/notes/next-generation-nepal/ngns-wisdom-wednesdays-in-kathmandu/1008241862530441