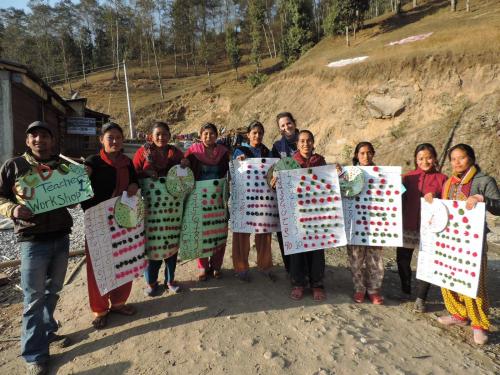 For the first time since living in Nepal, I rode on the top of a bus.  The mountains were incredible and I could almost reach out and touch them.  A goat, also riding on top, didn't wait for a "pee" stop. One man said to me, it's difficult (we have to ride on the top of the bus) and I responded, "Jeevan Gharo ho". I was coming back to Kathmandu from a visit to Sundrawoti VDC in Dolakha, visiting a project site of the NGO Nyayik Sansar (NS) the local partner of Tevel bt Zedak an Israeli INGO. 
My main goal in visiting Dolakha was to understand the partnerships that were being built with the community as well as the operating model of NS and Tevel which aims to create Israeli and Jewish leadership passionately engaged in Tikkun Olam—fixing the world—locally and globally.  Programs are non-denominational based on service learning.
The founder of Tevel grew up not too far from me in the San Fernando Valley in Los Angels, California.   Micha Odenheimer is a rabbi and a prolific journalist, having travelled to Nepal in 2005.  He met numerous Israeli backpackers who wanted to volunteer in Nepal and
in 2007, living in a group house with a number of volunteers who were volunteering with local NGOs, Micha started mentoring their work and inspiring them with study sessions on the philosophy, Jewish and universal, that had motivated him.
Nyayik Sansar has been working since 2009 in various districts across Nepal, with marginalized communities, promoting their wellbeing, focusing on sustainable community development and social justice through a participatory, "bottom-up" approach. Apart from social development, the primary focus of NS is to advocate for rights and dignity of the most vulnerable populations, campaigning for women's equality, youth and child protection, development, participation, and rights. In order to achieve its mission, Nyayik Sansar uses a holistic approach to promote sustainable livelihoods.
Nyayik Sansar's vision is to create a peaceful, inclusive and harmonious society, full of opportunity in which poor, vulnerable and socially-excluded people are treated equally and live their lives in dignity.  Activities take place within five main thematic fields: agriculture and livelihood improvement, women's empowerment, youth leadership, education and media/advocacy for impoverished, marginalized communities and underprivileged ethnic groups. Additionally, Nyayik Sansar places national and international young adults in Community Action Learning programs in its working areas.
What I observed was an ideal partnership in integrated living/working in the community.  The staff lives above a local restaurant/hotel where they take their meals.  (The restaurant owners even let me cook mixed vegetables on two nights to go with daal bhaat).  The volunteers, three national and three international, live in quarters a bit above the main road and are fully engaged on every level.  This type of pairing makes so much sense reminding me of the VSO International Citizen Services (ICS) program.  The international volunteers, two of whom are Israeli and one American worked closely and shared quarters and cooking with their Nepali counterparts.  They are in schools educating teachers about early childhood development and child friendly classrooms, working with women's and adolescent girl's groups, discussing such items as menstruation and prolapsed uterus, they are working with local youth to come up with volunteering ideas; one group will be leading a clean-up campaign in their community.  Other ideas included a sports day and sports clubs, competition, creating community pride amongst the wards in the working area VDCs.  There is also a lot of training and implementation of growing to provide nutritious food for households. 
Mostly I could see and feel a lot of respect on the part of the workers and volunteers for the community members and vice versa.  As shown to me by how the staff/volunteers are fully integrated into the community there is no separation or rest for the work that is never ending but will have a huge return for positive community development.