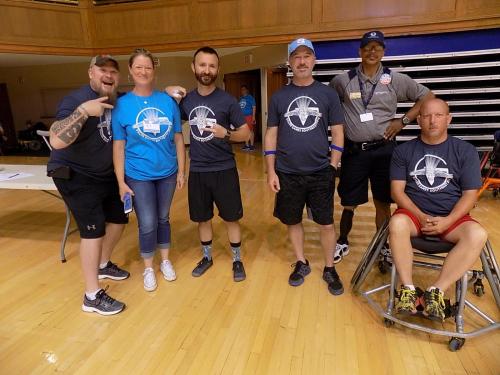 One of the major learnings for me while living in India and Nepal (March 2009-August 2016) was that during the initial six months of a job it is vital to spend time building relationships and serving others, helping colleagues to understand me and understanding the culture of an organization.  (This was made even more difficult as I had to also learn about other cultures).  This is vital for becoming part of a team.  The learning process takes more than six months and ideally continues, but this lesson continued to stay with me when I came back to the United States (September 2016) and had to again understand its working culture.     
As you know from my column, Bridge II Sports, which I joined on March 1, is a small NGO with a huge impact in the field of adapted sports. Like myself, some of the staff are very new; also starting within the past three months.   We all had to integrate quickly because from May 22-24 we implemented the sixth edition of our largest event Valor Games Southeast (VGSE) taking place at three different venues offering 11 different adapted sports to 125 Veterans from across the United States.  The Event is so intense and focused, working from early morning to late at night, that all of the staff needed to stay at the same hotels as the Veterans from May 20-24. 
I've never worked on such a large event and I was only one of the support staff.   There were over 300 volunteers, all of whom needed to have an orientation, and a great need for expert coordination, everything from packing large trailers with equipment, room accommodation, equipment and people transportation, including a police escort to and from each venue, awards ceremonies, etc.
For such a huge undertaking VSGE was an excellent example in corporate and government social responsibility.   On the Government side, the US Department of Veteran's Affairs was a major partner/sponsor. The Governor, Roy Cooper and Secretary of the Department of Military and Veteran Affairs Larry D. Hall for the State of North Carolina, both spoke at the opening ceremonies.   On the corporate side CISCO and MetLife were major partners/sponsors, providing not only funding but also volunteers.  The University of North Carolina-Dean E. Smith Center and Duke University-Cameron Indoor Stadium were two of the venues that were used.  The other venue was Lake Crabtree, a Wake County (public) Park.   There were also a multitude of other sponsors and community partners. 
Personally, meeting and talking with Veterans who had a number of physical disabilities and/or Post Traumatic Stress Disorder (PTSD) was an awakening.  The spirit of the Veterans, who have served US and (ultimately) other countries citizens in extremely dangerous situations, was incomparable.  How does one ever fully recover from going to war, having one's friends killed and becoming wounded both physically and mentally? 
Only 7.3 percent of Americans have served or are currently serving in the military.  Given this small percentage one understands why events such as the Valor Games Southeast become so much more than sports, although "friendly" competition goes a long way in helping people to at least in the moment, heal from their wounds.  VSGE is about camaraderie, an opportunity to be with others who have shared a very unique experience, a place where everyone is accepted and not feeling different.  Although medals were given out, everyone is a winner.
While in Nepal I had the great honor and opportunity to coach for and against the Nepal Army Wheelchair Basketball Team.  They were all great competitors, many participating in other sports, wanting the opportunity to play.  Some of the athletes had been injured in the Nepalese Civil War.  Undoubtedly there was much suffering, especially in the rural areas. 
VSGE was held right before Memorial Day in the US, a holiday in which we remember and honor those who have served in the military.  My challenge to Nepal is to honor disabled Veterans by giving them the opportunity to compete in adapted sports on a regular basis. Bringing together the Government, corporate sector and NGOs for a Valor Games Nepal and other competitions can only help to heal and bring the Country closer together. 
The views expressed in this article are only those of the author and do not represent any organization.